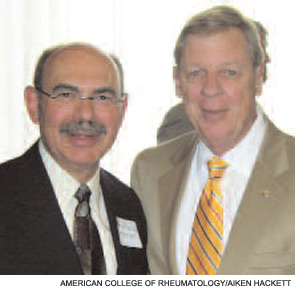 ACR President Neal Birmbaum, MD (left), met Sen. Isakson at the legislative briefing.
On September 19, the ACR and the Arthritis Foundation held a joint legislative briefing to inform Congress members and their staff about the devastating effects of arthritis and related rheumatic diseases, as well as to encourage support of the "Arthritis Prevention, Control, and Cure Act of 2007" (S.626/H.R. 1283), or Arthritis Act.
Although many voices were heard around Washington, D.C., that day, the voices of arthritis patients had the greatest effect on policy makers.
Pediatric Patients Speak Out
Emily Smith, a pediatric arthritis patient from Burke, Va., addressed a group of policy makers and staff with more poise than an average high-school student.
Diagnosed with arthritis as a toddler, Smith has endured many ups and downs, including a two-and-a-half-year separation from her father.
Smith's father received a promotion and new orders from the U.S. Navy and was offered an opportunity to join the U.S.S. John F. Kennedy in Mayport, Fla., but the family was unable to find a pediatric rheumatologist there (the nearest was over 300 miles away). Making a difficult decision, Smith's father moved to Florida to accept the new position and Smith and her mother and siblings moved to Virginia where they had better access to care.
In many ways, Smith is your average teenage girl, but she's more than that. She is an advocate – a voice not just for herself, but for other children with juvenile arthritis.
Smith ended her speech to policy makers as a true advocate: "One of the goals of the Arthritis Prevention, Control, and Cure Act is to help increase the number of pediatric rheumatologists in America. Maybe if this Act had been around 10 years ago, my family wouldn't have been split up for two and a half years," she said.
Concern from Pediatric Rheumatologists
Physicians are equally passionate about speaking with policy makers. Christy Sandborg, MD, a pediatric rheumatologist at Stanford Medical Center (Calif.) and an ACR board of directors member, spoke of the shortage of specialists.
"Juvenile arthritis is one of the most common illnesses in children. It is equivalent in numbers to childhood diabetes and is more common than cystic fibrosis and muscular dystrophy," said Dr. Sandborg. "There are five times as many pediatric endocrinologists and eight times as many pediatric oncologists, and both of those diseases are either less or comparable to the number of children with rheumatic diseases, yet there are 12 states that don't even have a pediatric rheumatologist."
Parents Weigh in
Jonathan Weisman covers Congress for The Washington Post and is the father of Alissa, a child with dermatomyositis. Weisman stated at the legislative briefing, "The problem with the medical system in the United States is that, for all their medical training, doctors are glorified sweat-shop workers. They get paid by the piece. If you are in a thinking field that takes a lot of time and a lot of effort for each patient, but does not take a lot of procedures, you're just not going to make the money."