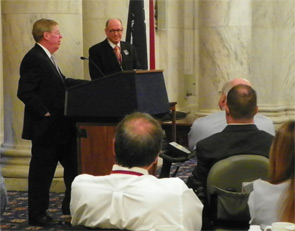 Sen. Johnny Isakson (R-Ga.), at left, addresses more than 120 ACR and ARHP members and patient advocates on Capitol Hill during Advocates for Arthritis.
The ACR's annual Advocates for Arthritis conference, September 19–20, brought more than 120 rheumatologists, rheumatology health professionals, and patient advocates to our nation's capital. Attendees, representing 37 states, met with more than 175 congressional offices, sharing their stories of access to care, treatment, and the importance of research.
During the conference, ACR and ARHP members attended an educational session that focused on the latest health policy and regulatory issues affecting the rheumatology community. Speakers included:
ADVERTISEMENT
SCROLL TO CONTINUE
Todd Askew, director of AMA Congressional Affairs, who informed members on Congress' ongoing discussion regarding physician payment reform and what to expect from the Joint Select Committee on budget reduction;
Mandy Cohen, MD, MPH, director of Stakeholder Engagement Group for the Centers for Medicare and Medicaid Services (CMS) Center for Innovation, who presented the latest developments in the testing of innovative payment and service delivery models;
Shari Ling, MD, acting deputy chief medical officer for CMS's Office of Clinical Standards and Quality, who gave an update on advancements in quality measurement and improvement; and
William Rogers, MD, director of the CMS Physicians Regulatory Issues Team, who discussed how CMS is working to reduce the regulatory burden on physicians who participate in the Medicare program.
During lunch, members heard from Rep. Rob Woodall (R-Ga.) who talked about the value of developing relationships with congressional staff. During the advocacy training session, ACR and ARHP members were teamed up with patient advocates to prepare for their Hill visits the next day.
Advocates started their day on Capitol Hill with a breakfast briefing featuring Sen. Johnny Isakson (R-Ga.). Isakson spoke about his support for medical research and fixing the flawed Medicare physician payment system. After breakfast, the advocacy teams hit the Hill, educating lawmakers and staffers about the important role rheumatologists' play in care coordination and the impact rheumatic disease has on patient quality of life.
ADVERTISEMENT
SCROLL TO CONTINUE
This year, during September's Advocates for Arthritis conference, the ACR launched its Simple Tasks public relations campaign. As a part of the campaign, the ACR piloted a new microsite to make the Advocates for Arthritis experience even more rewarding. The site featured a Virtual Hill Day where ACR and ARHP members and patient advocates could share their stories with Congress from their homes. View member and patient stories, pictures, and videos from this year's event at www.advocatesforarthritis.org.