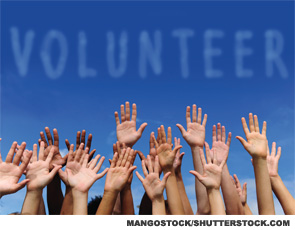 Volunteers are among the most essential parts of the College's present and future. Volunteers are responsible for maintaining current work, developing new projects and planning future initiatives. Not only are their time, talents and skills crucial to Advancing Rheumatology! but the College could not exist without them.
Now that you understand the importance of volunteers to the ACR/ARHP, you might ask, "What do I gain from volunteering?" The answer may surprise you.
ADVERTISEMENT
SCROLL TO CONTINUE
The Benefits
First, you build skills. Volunteers learn about public speaking, team building, leadership, conflict resolution and communication. Indeed, our most recent ACR Leadership Conference was a lesson about how to engage members across generations—from baby boomers to generation Xers to millennials.
Second, you build a large network of mentors and collaborators created through your interactions as an ACR volunteer. These individuals may be instrumental when it comes to making decisions about your clinical practice or research.
ADVERTISEMENT
SCROLL TO CONTINUE
Third, you make new friends that last a lifetime.
Finally, you gain tremendous rewards from joining a tribe of passionate, results-driven, champions of rheumatology who shape our specialty.
Serving the College has not only been a privilege, but a career motivator that has pushed my boundaries.
—Dr. St.Clair
Our Stories
We all remember the first time our mentor or a colleague nurtured our interest in volunteering for the College:
Dr. St.Clair: "My mentor, David Pisetsky, got me started with my first volunteer activity, the Medical Student and Resident Recruitment Subcommittee under the auspices of the Committee on Training and Workforce. I gave it a try because of my interest in residency education and training and the chance to branch out from my institutional boundaries. From there, I joined the Annual Meeting Planning Committee, where I learned firsthand about many of the leaders in our field. Everyone has heard the phrase, 'Get out of your comfort zone.' Outside your comfort zone is where the magic happens. For me, volunteering—whether it is for the ACR or another organization—has been surprisingly beneficial to my personal and professional development. It pushes me to improve my performance. More than 20 years later, I am still volunteering for the ACR and have enjoyed every minute of it. Serving the College has not only been a privilege, but a career motivator."
Dr. Nola: "I agree, Bill. One of my mentors, Ann Kunkel, recommended the ARHP Advocacy Subcommittee to me when I joined ARHP. Ann was a great mentor for me as the ARHP Advocacy Subcommittee was merged with the ACR Committee on Government Affairs. Going to Washington, D.C., to advocate on behalf of rheumatology and the patients we serve has influenced my career to this day. These Advocates for Arthritis fly-ins allowed those of us from Tennessee, as well as other states, to share our stories. If you want to feel like you are making a difference, this is a great way to be involved.