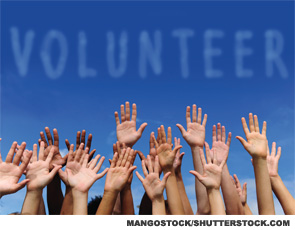 Volunteers are among the most essential parts of the College's present and future. Volunteers are responsible for maintaining current work, developing new projects and planning future initiatives. Not only are their time, talents and skills crucial to Advancing Rheumatology! but the College could not exist without them.
Now that you understand the importance of volunteers to the ACR/ARHP, you might ask, "What do I gain from volunteering?" The answer may surprise you.
ADVERTISEMENT
SCROLL TO CONTINUE
The Benefits
First, you build skills. Volunteers learn about public speaking, team building, leadership, conflict resolution and communication. Indeed, our most recent ACR Leadership Conference was a lesson about how to engage members across generations—from baby boomers to generation Xers to millennials.
Second, you build a large network of mentors and collaborators created through your interactions as an ACR volunteer. These individuals may be instrumental when it comes to making decisions about your clinical practice or research.
ADVERTISEMENT
SCROLL TO CONTINUE
Third, you make new friends that last a lifetime.
Finally, you gain tremendous rewards from joining a tribe of passionate, results-driven, champions of rheumatology who shape our specialty.
Serving the College has not only been a privilege, but a career motivator that has pushed my boundaries.
—Dr. St.Clair
Our Stories
We all remember the first time our mentor or a colleague nurtured our interest in volunteering for the College:
Dr. St.Clair: "My mentor, David Pisetsky, got me started with my first volunteer activity, the Medical Student and Resident Recruitment Subcommittee under the auspices of the Committee on Training and Workforce. I gave it a try because of my interest in residency education and training and the chance to branch out from my institutional boundaries. From there, I joined the Annual Meeting Planning Committee, where I learned firsthand about many of the leaders in our field. Everyone has heard the phrase, 'Get out of your comfort zone.' Outside your comfort zone is where the magic happens. For me, volunteering—whether it is for the ACR or another organization—has been surprisingly beneficial to my personal and professional development. It pushes me to improve my performance. More than 20 years later, I am still volunteering for the ACR and have enjoyed every minute of it. Serving the College has not only been a privilege, but a career motivator."
Dr. Nola: "I agree, Bill. One of my mentors, Ann Kunkel, recommended the ARHP Advocacy Subcommittee to me when I joined ARHP. Ann was a great mentor for me as the ARHP Advocacy Subcommittee was merged with the ACR Committee on Government Affairs. Going to Washington, D.C., to advocate on behalf of rheumatology and the patients we serve has influenced my career to this day. These Advocates for Arthritis fly-ins allowed those of us from Tennessee, as well as other states, to share our stories. If you want to feel like you are making a difference, this is a great way to be involved.
"Volunteering for the AHRP has introduced me to lifelong friends and colleagues all over the country and around the world.
"Every committee chair, member and microvolunteer makes critical contributions to the organization, which keep us moving forward.
"I'm amazed at the ideas generated and quality of work done in collaboration among these groups. It is through these experiences I am able to make the most current and up-to-date information available to patients, caregivers and fellow colleagues.
"Although rheumatology has challenges, I see opportunity in so many places. It is an exciting time to be engaged and involved. I will always be grateful for the many friends and colleagues I've met along this journey with ACR/ARHP. As a Tennessean, I find the term, 'Go Vols!' carries even more meaning these days."
Call for Service
Currently, the College has more than 700 volunteers actively working to Advance Rheumatology! For 2015 the ACR, ARHP and Rheumatology Research Foundation have more than 60 volunteer positions open for the Board of Directors, Standing Committees and Councils. These appointments are for three years and are initiated each year in conjunction with the ACR/ARHP Annual Meeting. In 2015, as part of its Strategic Plan to Reshape Volunteering, the College is implementing microvolunteering opportunities that will allow members who are unable to make a commitment to a three-year term on a standard committee or board to contribute as a volunteer in other ways. Microvolunteering will be structured to create options for volunteering that require less travel and can be completed in relatively short lengths of time. We are excited that these new microvolunteering opportunities will allow us to expand our volunteer pool to include members of the ACR and ARHP from across the globe.
The ACR is also convening a Leadership Development Task Force, led by David Daikh, MD, ACR/Foundation secretary. The goal of this group is to design a leadership program for the ACR that will develop a sustainable pool of volunteer leaders for the future. We would like to engage young and busy members in volunteer activities for the College, while providing new tools to enhance their career development and leadership skills.
Volunteer nominations are currently being accepted for the ACR and Foundation Board of Directors, as well as ACR, ARHP and Foundation committees and councils. We would like all members interested in serving the College as a volunteer to complete the volunteer nomination survey, which is located at www.rheumatology.org. For mentors who think they know someone who would benefit from becoming an ACR volunteer, we would ask you to nominate them for a volunteer opportunity. The deadline for submission is June 1. After all the nominations are submitted, they are then reviewed by the Committee on Nominations and Appointments for review and selection before going to the Board of Directors for approval. All nominees will be informed of the Committee and Board decisions.
The ACR Board of Directors is confirmed by the membership at the annual business meeting held during the ACR/ARHP Annual Meeting.
---

E. William St.Clair, MD, is president of the ACR and chief of the Duke Division of Rheumatology and Immunology. Dr. St.Clair, a rheumatologist, has 25 years of experience as a clinical investigator. Contact him at wstclair@rheumatology.org.

Kamala Nola, PharmD, MS, is the 2015 ARHP president. She is the vice chair, Department of Pharmacy Practice at Lipscomb University College of Pharmacy in Nashville, Tenn. As associate professor, she teaches in the areas of healthcare policy and delivery, communications skills, caring for vulnerable and underserved patients, and rheumatology pharmacotherapy. Dr. Nola has been involved in rheumatology for more than 15 years.