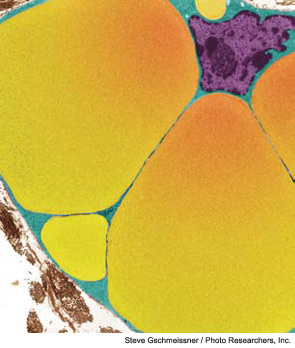 Colored transmission electron micrograph of lipid droplets (yellow) in a developing adipocyte.
A dipose tissue has longed been viewed as a harmless tissue in the pathogenesis of chronic inflammatory connective tissue and joint diseases, with fat providing the soft surroundings for damage inflicted by other mechanisms. This dogma, based on the protective role of leptin in metabolic diseases, has long been popular, although it may have hindered thorough basic science research in this field. However, three discoveries have completely changed this point of view and will be the subject of this article.1,2
These advances can be summarized briefly as follows:
A number of molecules released by adipocytes—the so-called adipokines—are not solely produced by adipocytes.3 (See Table 1) Rather, these molecules are also produced by various cells of a similar mesenchymal origin such as fibroblasts.
Adipocytes can actively secrete additional proinflammatory factors operative in the pathophysiology of inflamed joints. These factors include tumor necrosis factor (TNF), interleukin (IL)-6, components of the complement system, growth factors, and adhesion molecules.
The majority of these pluripotent adipokines targets well-known effector cells operative in the pathophysiology of chronic rheumatic diseases towards a proinflammatory and matrix-degrading direction. The key prototype molecule in this scenario is adiponectin, a member of the complement–TNF superfamily that exerts properties remarkably similar to that TNF, a central mediator of inflammation with well-known deleterious effects in arthritis.
First Adipokines
What are the molecular properties of these adipokines, whether they are "innocent or injurious" (see Table 2)? The adipokine history started with leptin. Leptin has important immunoregulatory functions since it is involved in T-cell proliferation, can induce T-helper type 1 immune reactions, and is involved in proliferation and activation of inflammatory cells such as monocytes and neutrophils.4 Next in line came adiponectin, which exists in various isoforms with different and sometimes counteracting functions. The high molecular weight adiponectin, for example, induces IL-6 in human monocytes but does not suppress lipopolysaccharide-induced IL-6 secretion. In contrast, low molecular weight adiponectin reduces LPS-induced IL-6 synthesis and appears to have anti-apoptotic properties.
In the light of the lively ongoing discussion around the role of osteoimmunology in rheumatic diseases (discussed in "A Duet of Bone and the Immune System" in the July 2011 issue of The Rheumatologist, p. 1), an interesting feature of adiponectin is its potential to stimulate proliferation and receptor activator for nuclear factor κB ligand (RANKL) expression in osteoblasts, whereas osteoprotegerin expression is inhibited.5 Moreover, globular adiponectin strongly inhibits TNF/RANKL-induced osteoclastogenesis as well as osteoclast formation induced by innate immune system arthritis-related Toll-like receptor 4 ligand and RANKL.