---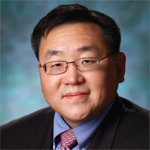 Philip Seo, MD, MHS, is an associate professor of medicine at the Johns Hopkins University School of Medicine, Baltimore. He is director of both the Johns Hopkins Vasculitis Center and the Johns Hopkins Rheumatology Fellowship Program.
ADVERTISEMENT
SCROLL TO CONTINUE
Notes
Some of you may have noticed that in March 2020, The Rheumatologist took a hard turn. That's when I realized SARS-CoV-2 wasn't going to quietly disappear, as had MERS and SARS-CoV-1, and I decided that our coverage should reflect this new, unwelcome visitor to our lives. We decided early on that we could best serve our readership by becoming a place where you could tell your stories. By my count, we have published more than 130 stories related to COVID-19, and we will continue to tell your stories about how COVID-19 has affected your lives until it is no longer necessary, inshallah.
This rapid change of direction was ably assisted by my associate editors, Vicky Ruffing, RN-BC, and Ethan Craig, MD, MHS, who helped create a vision for the type of coverage of the pandemic we wanted to provide. For those of you who miss some of our regular features, be assured that we plan to weave them more expertly with our COVID-19 coverage in the next calendar year, so there will be something for everyone.
ADVERTISEMENT
SCROLL TO CONTINUE
Also, I would be remiss if I did not thank Keri Losavio, who is the actual editor of The Rheumatologist, and is responsible for making the trains run on time. I am particularly pleased to note that Wiley, the publisher of The Rheumatologist, has rewarded her hard work with a well-deserved promotion to Custom Content Editor II. In announcing her promotion, the publisher noted, "[d]uring the past six years at Wiley, Keri has been instrumental in expanding The Rheumatologist's editorial footprint … to help grow the brand." Truer words never spoken.
One final anecdote: A colleague recently reminded me of the words of Jonathan Mann, who helped mobilize the global response against HIV/AIDS: "Our responsibility is historic, for when the history of … the global response is written, our most precious contribution may well be that at the time of plague, we did not flee; we did not hide; and we did not separate." Those words now apply to each one of us, in a way that none of us could have possibly imagined at the beginning of this year.
I expect that 2020 will not leave quietly. I predict more than our share of misery lies ahead, but I am hopeful for a brighter future in 2021. Until that time, I place a charge on you: Be kind to one another. Be generous. Be forgiving. This has been a rough year. But, as Thomas Fuller wrote, "It is always darkest just before the day dawneth."9 And the dawn is in sight.