What You Can Do
We encourage you to share these efforts with patients and their caregivers and invite them to take advantage of the resources available on the Simple Tasks website. The website is designed to help patients and caregivers become more knowledgeable about their rheumatic disease, gain strength from a larger community of those whose lives have been altered by rheumatic disease and learn ways to stay on top of their health.
You Might Also Like
Explore This Issue
August 2019
Also By This Author
Every year, the month of September carries special meaning for all of us: the end of summer, the return to school, the harbinger of fall and the holidays soon to follow. For those of us in rheumatology, September now also means the start of Rheumatic Disease Awareness Month and our comprehensive campaign to raise awareness about our specialty and improve the health, wellness and quality of life for everyone with rheumatic disease.
ADVERTISEMENT
SCROLL TO CONTINUE
---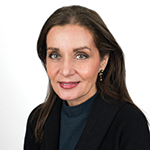 Paula Marchetta, MD, MBA, is a rheumatologist in New York City and the CEO and managing partner of Concorde Medical Group, a multi-specialty private group practice affiliated with NYU Langone Health. She teaches at NYU School of Medicine, where she is a clinical professor. Dr. Marchetta is the 82nd ACR president.