It happens all the time. We can see it coming—that quizzical look or the hesitant nod after someone asks what we do for a living. We are so accustomed to the next question that we often provide the answer before someone even has a chance to ask it: "What's a rheumatologist?"
You Might Also Like
Explore This Issue
August 2019
Also By This Author
The ACR has long recognized the need for greater public awareness about our
specialty and the many diseases we treat. Four years ago, as part of our Simple Tasks campaign, we launched Rheumatic Disease Awareness Month (RDAM) and established September as the time each year dedicated to drawing attention to the 100-plus conditions under the rheumatic disease umbrella. The goal of RDAM is not only to raise public awareness, but also to increase understanding about the symptoms, risk factors, treatment options, economic
impact and challenges—both medical and personal—associated with rheumatic diseases.
ADVERTISEMENT
SCROLL TO CONTINUE
How have we accomplished this not-so-simple task? With the help of some well-known individuals who know firsthand what it is to live with a rheumatic disease.
In 2016, the inaugural year of RDAM, the ACR worked with Jennie Garth to develop a public service announcement (PSA) about her experience as the parent of a child with Still's disease. Jennie encouraged viewers to learn more about rheumatic diseases by visiting the Simple Tasks website.
ADVERTISEMENT
SCROLL TO CONTINUE
In the two following years, Terry Bradshaw became our spokesperson. His PSAs encouraged patients to pledge to live well with rheumatic disease. He shared his own story about how he managed to maintain an active lifestyle despite being diagnosed with both rheumatoid arthritis and osteoarthritis.
Each year's message has been supplemented with a broad range of other types of communication, all geared toward increasing the visibility of our specialty and providing information and tools to encourage patients and those who are supportive of them to take action. These efforts have included high-impact digital signage in the Atlanta airport, robust social media engagement (#RDAM), grassroots advocacy campaigns on such issues as step therapy, online educational patient quizzes and a patient pledge that encouraged participants to make healthy lifestyle choices to manage their conditions.
We also developed the ACR's first Rheumatic Disease Report Card in 2018, a first-of-its-kind report that sought to answer the question, "How easy is it to live with rheumatic disease in my state?"
ADVERTISEMENT
SCROLL TO CONTINUE
The report card assigned states letter grades according to their progress on 1) providing adequate access to rheumatology care, 2) ensuring rheumatic disease care is affordable, and 3) encouraging and adopting healthy lifestyle habits that ease the burden of rheumatic disease. Case studies on important issues, such as step therapy and the role of pharmacy benefit managers, were also included. The majority of states received a C, suggesting a lot of work remains to be done to improve the quality of life for Americans living with rheumatic disease.
Venus Williams has agreed to be our new partner & lend her star power to help the ACR continue the important work of bringing needed attention to the diseases we treat.
Venus Williams Joins the Cause
This year, we are excited to announce that Venus Williams has agreed to be our new partner and lend her star power to help the ACR continue the important work of bringing needed attention to the diseases we treat, raising awareness of what our specialty does and empowering patients to take control of their illness.
As many of us know, Venus has Sjögren's syndrome. Although she has faced many formidable opponents in her remarkable career as a world tennis champion, nothing has compared with her battle against Sjögren's. Venus was diagnosed in 2011 after six years of painful symptoms, incorrect diagnoses and lots of unanswered questions.
When she finally received the right diagnosis, it literally became a game changer for the tennis star. Knowing what she was facing, she was able to harness her energy and work toward getting back on top of her health. She began seeing a rheumatologist, started a treatment plan and made lifestyle changes to help manage her symptoms.
In her PSA, Venus shares her personal journey and encourages viewers to visit the Simple Tasks website to learn more about the resources available to help them get back on top of their game as well.
When patients visit the Simple Tasks website, they can sign up to join the Simple Tasks community. When they do so, they receive bi-monthly updates from the Simple Tasks team, sharing health and wellness articles, health policy updates and special opportunities the ACR has available for patients to get involved in supporting the practice of rheumatology, such as our annual Advocates for Arthritis fly-in event, which happens every September in Washington, D.C. Community members can also take advantage of opportunities to advocate for their access to care by participating in one of the ongoing grassroots campaigns found in the Simple Tasks patient advocacy center.
Media Efforts Focused on Dialogue
In conjunction with RDAM, the ACR will release the results of a national survey conducted to gain insights into the unique access and affordability challenges our patients face. The survey asked participants about their ability to access rheumatology care, afford their medications and treatments, and perform daily tasks.
During September, the ACR will promote the findings of this survey through a satellite media tour comprised of television and radio interviews. We hope the survey findings help continue many of the conversations started with the rollout of the ACR's 2018 Rheumatic Disease Report Card by providing additional context around the real-world challenges patients and providers experience managing rheumatic disease.
What You Can Do
We encourage you to share these efforts with patients and their caregivers and invite them to take advantage of the resources available on the Simple Tasks website. The website is designed to help patients and caregivers become more knowledgeable about their rheumatic disease, gain strength from a larger community of those whose lives have been altered by rheumatic disease and learn ways to stay on top of their health.
Every year, the month of September carries special meaning for all of us: the end of summer, the return to school, the harbinger of fall and the holidays soon to follow. For those of us in rheumatology, September now also means the start of Rheumatic Disease Awareness Month and our comprehensive campaign to raise awareness about our specialty and improve the health, wellness and quality of life for everyone with rheumatic disease.
---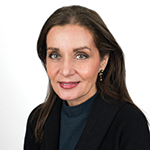 Paula Marchetta, MD, MBA, is a rheumatologist in New York City and the CEO and managing partner of Concorde Medical Group, a multi-specialty private group practice affiliated with NYU Langone Health. She teaches at NYU School of Medicine, where she is a clinical professor. Dr. Marchetta is the 82nd ACR president.