Farber disease is a rare, autosomal-recessive disorder caused by a mutation in the acid ceramidase gene, which leads to accumulation of sphingolipids in various tissues.1 It typically presents with a combination of characteristic subcutaneous nodules, progressive joint stiffness with contractures and progressive hoarseness starting in infancy.2 Additional symptoms include organ involvement, including the lungs, liver, heart and lymph nodes. Due to differences in residual lysosomal ceramidase turnover, great variability of phenotypes exists among patients with Farber disease. Patients with severe cases of Farber disease may exhibit various degrees of progressive, neurological dysfunction or liver failure, which, in many cases, leads to early death. Those with milder cases, without neurological or liver involvement, can survive well into adulthood.3
We report the case of a patient with late presentation of Farber disease without neurological involvement who was initially diagnosed with juvenile idiopathic arthritis.
Case report
A 2½-year-old boy of non-consanguineous German parents presented with hoarseness starting at age 18 months and an inability to extend the third finger of the right hand, noted at age 30 months. A biopsy of the finger yielded a result of chronic synovitis. Birth history and development to that point had been normal.
On examination, he presented with significant limitation of motion of fingers II through V of both hands with thickening of the flexor tendon sheaths. He also had swelling of the ankles, knees, wrists and elbows, with significant pain and limitation of motion. Ultrasound at the time of presentation showed only mild effusions in the elbows, with no synovial thickening, but tenosynovitis of the flexor tendon sheaths. No subcutaneous nodules were noted.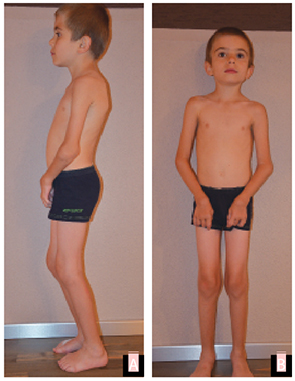 Figure 1: A patient with late presentation of Farber disease at age 8 years and 1 month. Lateral view (A) and anterior view (B). Note the significant contractures of both knees and elbows, as well as swelling over wrists and ankles.
Laboratory investigations showed normal CBC, negative CRP and ESR, and normal values for renal and liver function tests. Serum immunoglobulin levels for IgG, IgA and IgM were within normal range. Rheumatoid factor and antinuclear antibodies were not present, and HLA-B27 was negative.
He was tentatively diagnosed with juvenile idiopathic arthritis (with a subtype according to ILAR criteria of rheumatoid factor-negative polyarthritis) and was treated with indomethacin (2.7 mg/kg/day, divided three times per day), subcutaneous methotrexate (12.5 mg/m2 BSA/week) and several courses of methylprednisolone, which led to only temporary improvement.
After three months, he was also started on etanercept (0.89 mg/kg/week), which led to moderate improvement in pain and general mobility, but not in the range of motion. Starting at age 3 years, he started to develop nodules along the flexor tendons of the hand, as well as the back of the hand and on the dorsal side of the toes.