The Within Our Reach Investigators' Meeting, held in San Diego in June, was an incredible gathering of researchers funded through the ACR Research and Education Foundation's (REF's) Within Our Reach: Finding a Cure for Rheumatoid Arthritis campaign. The focus on rheumatoid arthritis (RA) was unmistakable as investigators from around the country presented work ranging from very basic immunology to health outcomes.
The meeting was a powerful experience that gave me, a junior investigator, an opportunity to see the cutting-edge projects within the field. It also gave me a chance to meet face-to-face with the investigators leading those projects. Prior to the meeting, I had a disjointed sense of all of the exciting RA basic science research from journal presentations, local seminars, and other meetings, but it was amazing to see all of it in one place—and to see ongoing work in progress. The most exciting aspect of the meeting was seeing the investigators as they brainstormed about the future directions that we need to pursue as a field.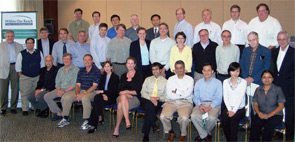 Attendees of the Within Our Reach Investigators' Meeting.
I am currently a fourth-year fellow at Brigham and Women's Hospital in Boston. In addition to my clinical work, I am learning the nuances of statistical genetics and modern genomic technologies with Mark Daly, MD, at the Broad Institute in Cambridge, Mass. In collaboration with Robert Plenge, MD, and collaborators from around the world, we have been applying these technologies to identify novel RA risk loci and the key genes involved in causing disease. In the long run, we are hopeful that these discoveries will be translated into a better understanding of RA pathogenesis and novel treatments.
In this context, I presented a poster at this meeting describing the discovery of three additional RA risk loci. The poster sessions were intimate, with only 10 or so poster presenters. The smallness of the sessions allowed each of us the opportunity to interact with many of the leaders in RA research.
Online Info
For more information about the Within Our Reach campaign and research or the Investigators' Meeting visit www.WithinOurReach.info.
I look forward to being a part of the RA research community and working with the Within Our Reach investigators and organization as I move forward in my career.
Dr. Raychaudhuri is a rheumatology fellow at Brigham and Women's Hospital and a postdoctoral fellow with the Broad Institute.