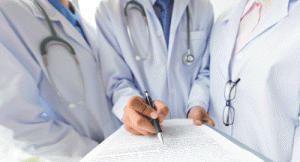 ACR Convergence 2021—On Nov. 7, attendees of the Rheumatology Secrets & Pearls session gained new insights into the diagnosis, management and treatment of an array of rheumatic diseases, from bread-and-butter conditions to rare clinical entities.
Jason Kolfenbach, MD, associate professor of medicine and ophthalmology and director of the Rheumatology Fellowship Program at the University of Colorado, Denver, led the popular session, along with John H. Stone, MD, MPH, professor of medicine at Harvard Medical School, and director of clinical rheumatology at Massachusetts General Hospital, Boston.
Dr. Kolfenbach explained that clinical pearls can be useful when randomized controlled trial data are not available for a particular question or when the data are available but don't address a particular patient's clinical scenario. Here are 10 pearls from their presentation.
Vasculitis Pearls
1. Dr. Stone discussed a unique manifestation of anti-neutrophil cytoplasmic antibody (ANCA) associated vasculitis: strawberry gingivitis.1 "Strawberry-like gingivitis is a clue to the diagnosis of granulomatosis with polyangiitis [GPA]," he explained. These lesions are not always florid throughout the mouth, and they may be subtle. However, if present, they are "strongly suggestive" of GPA.
ADVERTISEMENT
SCROLL TO CONTINUE
2. When evaluating a patient for a potential diagnosis of vasculitis, it is important to recognize that ANCA-associated vasculitis does not typically cause hard palate lesions, Dr. Kolfenbachexplained. "Hard palate lesions should bring to mind malignancy or cocaine-induced destructive lesions," he said.
A human neutrophil elastase (HNE) antibody test can be useful in this setting. This antibody is sometimes present in cocaine-induced midline lesions but not in ANCA-associated vasculitis. However, the assay is not available commercially.
3. Next, Dr. Stone discussed some pearls and myths related to Takayasu's arteritis. He noted that immunosuppression is often not urgently needed in the treatment of Takayasu's arteritis. This is, in part, due to the collateral circulation that often develops; patients with such collaterals are not at risk for limb-threatening ischemia.
ADVERTISEMENT
SCROLL TO CONTINUE
"Stenting should be undertaken after careful thought and reconsideration because of exuberant collateral circulation that develops, making stenting irrelevant in most cases," he explained.
One final pearl: Dr. Stone said to remember to listen for bruits on the patient's back on both sides of the spine. "If you detect a bruit, it may have one of two origins: the pulmonary artery or the descending aorta," he said.
Sarcoid Loves the Nasal Ala
4. Dr. Kolfenbach presented the case of a patient with atrophic skin changes over the cheeks that could be mistaken for discoid lupus. However, this patient had granulomatous changes due to lupus pernio (also called Besnier-Tenneson syndrome), a form of cutaneous sarcoidosis. Lupus pernio tends to present with violet-colored papules or plaques on the nose and cheeks, whereas discoid lupus tends to present with indurated plaques on the head and neck.
Historically, the term lupus has been applied to many different ulcerative diseases. Dr. Kolfenbach explained, "Lupus is Latin for wolf, and one of the proposed origins of the term derives from the red fur distribution over snout and cheeks in the red wolf that resembled the pattern of cutaneous involvement in patients with [lupus pernio]," he said. He emphasized the importance of recognizing that this pattern is seen in sarcoidosis and not in systemic lupus erythematosus.
Clinical pearls can be useful when randomized controlled trial data are not available for a particular question or when the data are available but don't address a particular patient's clinical scenario.
All About that CRP
5. Increased levels of C-reactive protein (CRP) are not typical in systemic lupus erythematosus (SLE) flares, Dr. Kolfenbachexplained, perhaps due to downregulation of interferon-α and/or the presence of anti-CRP antibodies.
Thus, it is important to rule out infection in patients with SLE and an elevated CRP. However, elevated CRP can be present during lupus flares accompanied by significant serositis or arthritis, or in patients with a concurrent malignancy.
IgG4-Related Disease & Mimics
6. Dr. Stone dispelled the myth that coronary aneurysms are only seen in one rheumatic condition, Kawasaki disease. He noted IgG4-related disease (IgG4-RD) can cause coronary arteritis and lead to striking coronary aneurysms: Ten patients followed in his IgG4-RD clinic have coronary involvement. This manifestation is most common in male patients with long-standing disease and high serum IgG4 concentrations.
7. Beware of mimics: Dr. Stone explained that not all periaortitis is related to a vasculitis or retroperitoneal fibrosis from IgG4-RD. He discussed a case involving peri-aortic inflammation in which the patient had a thick ring of inflammation around the kidneys, termed hairy kidneys. This finding is not present in IgG4-RD, but is instead a marker of Erdheim-Chester disease, a histiocytic disorder.
Gout Pearls
8. According to Dr. Kolfenbach, retrospective studies have demonstrated most prescriptions for allopurinol in the U.S. are at doses of 300 mg daily or less, but at this prescribed dose, only around 45% of patients achieve the serum uric acid goal of <6 mg/dL recommended by the ACR 2020 gout guideline. Thus, Dr. Kolfenbach emphasized the importance of uptitrating allopurinol, escalating above 300 mg daily if necessary to achieve the patient's goal serum uric acid level.
9. Dr. Kolfenbach also discussed thinking about the possibility of non-adherence if a patient is failing to respond to allopurinol.Before escalating to such therapies as pegloticase, practitioners should investigate whether lack of clinical response represents a failure of the drug itself or a patient's failure to take the drug.
"In a patient failing to respond [to allopurinol], consider checking an oxypurinol level," Dr. Kolfenbach said. Previous analysis in clinical trials of allopurinol has demonstrated that plasma oxypurinol can be used as an effective measure of adherence.2
Pediatric Pearls
10. Dr. Stone reviewed several pearls related to pediatric rheumatology. First, myositis-specific antibodies in juvenile dermatomyositis have different phenotypes than in adults.
Second, he explained that checking a ferritin-to-erythrocyte sedimentation rate (ESR) ratio can help distinguish systemic juvenile idiopathic arthritis (JIA) flares from macrophage activation syndrome (MAS); a ferritin:ESR ratio >21.5 strongly suggests MAS in the setting of JIA.
"This occurs due to the rapid rise of ferritin and decline in ESR due to fibrinogen consumption during MAS," Dr. Stone said.
---
Mithu Maheswaranathan, MD,
completed his fellowship in rheumatology at Duke University, Durham, N.C., where he is currently a clinical instructor in the Division of Rheumatology and Immunology. He can be contacted on Twitter (@MithuRheum).
References
Ghiasi M. Strawberry gingivitis in granulomatosis with polyangiitis. N Engl J Med. 2017 Nov 23;377(21):2073.
Stamp LK, Merriman T, Frampton C, et al. Plasma oxypurinol as a measure of adherence in clinical trials. Ann Rheum Dis. 2018; 77(2):313–314.