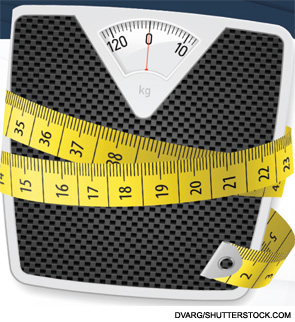 BOSTON—In the midst of a growing obesity epidemic in the developed world, scientists are learning more about the active role that adipose tissue and metabolism in general plays in inflammation.
One area of new research is metainflammation, an inflammatory reaction related to immunometabolism and metabolic disease, said Gokhan S. Hotamisligil, MD, PhD, chair of the department of genetics and complex diseases at Harvard School of Public Health in Boston, Mass.
"Metabolic inflammation is not like the classic inflammatory response we learned about in medical school. It's not associated with increased energy expenditure, and there are no classic signs," he said. In the session, Metainflammation, Dr. Hotamisligil shared some of his findings on metainflammation and regulatory pathways influencing it at the ACR/ARHP Annual Meeting in Boston on Nov. 18.
Global Health Impact
Many factors play a role in disease pathogenesis, including dietary, microbial, genetic, environmental and metabolic, said Dr. Hotamisligil. "All of this is a constant negotiation between environmental inputs and our adaptive systems, including our immune system. If the stress is successfully negotiated, health is restored. If the adaptive systems fall short, disease ensues."
Evolutionary, selective forces like infection or starvation—no longer a major factor in a developed world where overeating is more common—all play a role in immunometabolic integration and subsequent immune responses. Chronic, immunometabolic conditions, such as cardiovascular disease (CVD), fatty liver disease and Type 2 diabetes, are a few potential results.

Dr. Hotamisligil
"The immune response is extremely, energetically expensive," he added. As a result, the immune system constantly communicates with metabolic cells, sometimes to the body's detriment. These diseases are a huge global public health crisis. By 2025, as many as 1 billion people may have diabetes and related chronic metabolic diseases worldwide, Dr. Hotamisligil said. "There are already millions of people not being treated for diabetes. The problem is immense."
Insulin resistance has long been linked to the immune response and inflammation. More recently, scientists linked it to metabolic disease by studying inflammatory cytokine expression in white, adipose tissue as well as other metabolically critical organs.
"Adipose tissue is a rich bed of immune response. We can see interactions between the immune response and the metabolic response," said Dr. Hotamisligil. During metabolic stress brought on by obesity, metainflammation is the body's powerful reaction. Adipose tissue becomes inflamed during obesity, but so do liver, pancreatic and brain tissue. In this active adipose tissue, inflammatory macrophages, mast cells, T cells, B cells and eosinophils all may be present.