A: The thrill of EIS was being on the front lines of interesting problems that were of public health importance and/or in the news. It was a chance to be among the first people dealing with brand new problems. That feeling persists in a way even in my work today, where so little is known about arthritis public health, or how arthritis affects the population—not the individual—and how population-level interventions can help. A lot can be learned from the public health perspective that can help researchers, healthcare systems and payers, and those with arthritis—and that remains thrilling.
Q: How has your desire to answer questions changed over the years?
ADVERTISEMENT
SCROLL TO CONTINUE
A: My early career focused more on answering questions on infectious diseases, sometimes with great urgency. Over the years, my career has evolved to focus more on questions relating to the bigger, less urgent public health problems. Arthritis is a great example—a big public health problem that isn't sufficiently "urgent" to get resources commensurate with the problem. We hope to change that someday.
Q: You can't preach the benefits of exercise enough to patients and providers. Why are you so passionate about that message?
ADVERTISEMENT
SCROLL TO CONTINUE
A: Physical activity is good for everyone and has many, many benefits for people with arthritis. Regular physical activity reduces joint pain, helps people feel better and helps manage (and possibly prevent) some of the other conditions that commonly occur with arthritis, such as heart disease, diabetes and obesity. From a public health perspective, regular physical activity is almost a magic bullet—so many positive results with no drug side effects!
ARHP Distinguished Scholar Award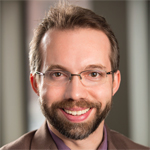 Kaleb Michaud, PhD
Associate Professor, University of Nebraska Medical Center, Omaha, Neb., co-director, National Data Bank for Rheumatic Diseases, Wichita, Kan.
ADVERTISEMENT
SCROLL TO CONTINUE
Background: Dr. Michaud was introduced to rheumatic diseases at an early age—as a patient. But it wasn't until his long-time clinician, Fred Wolfe, MD, offered him a job as a statistician that he realized rheumatology was his true calling.
"I loved getting my hands dirty, in the data, writing programs and code. After my first ACR meeting, it really sank in," Dr. Michaud says. "I could not have had a more inspiring mentor. He did an amazing job teaching me so much about rheumatology and transforming my frustrations as a patient into enthusiasm as a researcher. When I went back to finish my PhD, I changed fields, and my new advisors taught me so much about medical economics and medical decision making."