SAN DIEGO—At the 2017 ACR/ARHP Annual Meeting in San Diego in November, the ACR and the ARHP honored a group of distinguished individuals who have made significant contributions to rheumatology research, education and patient care. This month, The Rheumatologist speaks with the ARHP winners about their individual contributions. In addition, we profile the new class of fellows.
ARHP President's Award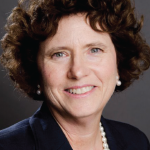 Karen Smarr, PhD
Psychologist/Research Compliance Officer, Harry S. Truman Memorial Veterans Hospital, Columbia, Mo.
Background: What hasn't Dr. Smarr accomplished in her field? She's co-authored more than 40 peer-reviewed publications and book chapters. She's served on the editorial board of Arthritis Care & Research. And, of course, she's a former ARHP president. But even with the accolades of a full career behind her, there's something different about the ARHP President's Award.
"This is a very special honor for me and I'm grateful for the opportunities I've been afforded to grow personally and professionally while working as a volunteer and leader in [the] ARHP," she says. "This a wonderful time in my career. I'm grateful for the many friendships I've made since getting more involved in the work of the College."