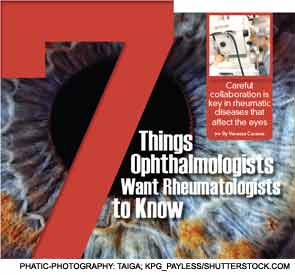 Rheumatologists are no strangers to eye care because a number of rheumatology patients present with or develop eye symptoms.
"Most of the inflammatory diseases we treat as rheumatologists can have ophthalmologic manifestations," says Christopher M. Wise, MD, professor, internal medicine, rheumatology, allergy and immunology, Virginia Commonwealth University School of Medicine, Richmond, Va.
"In inflammatory arthritis, patients with rheumatoid arthritis may have dry eyes or specific inflammatory processes involving the eye, such as scleritis and uveitis," says Dr. Wise. "Patients with ankylosing spondylitis, reactive arthritis, and other spondyloarthropathies frequently get uveitis. Plus, a wide range of inflammatory processes involving the eye, ocular muscles or vessels, and orbit can be seen in lupus, primary Sjögren's syndrome, and most of the vasculitic syndromes—granulomatosis with polyangiitis and temporal arteritis in particular."
Yet that's not all. Ocular manifestations can also arise in sarcoidosis, herpes zoster, Behçet's disease, Crohn's disease and ulcerative colitis, and juvenile idiopathic arthritis.
7 Tips to Improve Care, Collaboration
It's not uncommon for patients who do not yet have a diagnosed systemic disease to experience certain ocular problems, leading them to visit their ophthalmologist. The ophthalmologist then makes a referral to a rheumatologist for suspected systemic disease.
"For example, a lot of Sjögren's patients show up first in the ophthalmologist's or dentist's office," says John D. Sheppard, MD, MMSc, professor of ophthalmology, microbiology & molecular biology, Eastern Virginia Medical School, Norfolk, Va.
Or a rheumatologist may refer a patient because of troublesome eye symptoms or to monitor the patient when he or she uses medications that increase certain ocular risks.
Despite the crossover that often occurs, there are still lessons that rheumatologists can learn from eye specialists to further speed up diagnoses and improve patient care.
Here are seven pearls.
1. Don't Ignore Ocular Symptoms
"When the eye is involved, it's very clear that's a signal of bad things to come. It's like the canary in the coal mine," says C. Stephen Foster, MD, founder and president, Massachusetts Eye Research and Surgery Institution, Cambridge, Mass. Dr. Foster is a member of both the American College of Rheumatology as well as the American Academy of Ophthalmology. He has seen, for instance, patients with lupus on a variety of systemic treatments who suddenly experience a change in vision. Although ophthalmologists may recommend more aggressive treatment, some rheumatologists will not heed this advice. Consequently, he has seen patients lose their vision or experience another serious effect, such as kidney impairment.