Widely published, much honored and admired, H. Ralph Schumacher, Jr., MD, is one of that rare breed, a triple-threat rheumatologist, says rheumatologist and long-time colleague Daniel G. Baker, MD, vice president of clinical immunology at Johnson & Johnson.
Dr. Schumacher's stature in the field of rheumatology is built on a prodigious body of work, not just in laboratory and clinical investigation, but in his clinical and teaching pursuits. Currently, Dr. Schumacher is professor of medicine at the University of Pennsylvania in Philadelphia; director of rheumatology-immunology research at the VA Medical Center in Philadelphia; and founding editor and current editor-in-chief of the Journal of Clinical Rheumatology, the official journal of the Pan American League of Associations for Rheumatology (PANLAR).
Recent conversations with Dr. Schumacher, several former fellows, and long-time collaborators revealed a man of dedication, discipline, and heart, with an appetite for sharing knowledge.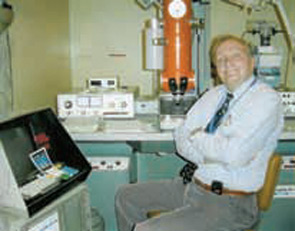 Dr. Schumacher with his electron microscope.
First and Foremost a Scientist
Five hundred fifty and still counting: the list of published journal articles in Dr. Schumacher's CV is impressive not only for its length but for its breadth and depth of scientific inquiry. "I always thought of Ralph, from the research standpoint, as a really great observational scientist. He's a keen observer of various types of pathology in arthritis," notes Edward V. ("Ted") Lally, MD, professor of medicine and director of rheumatology at Brown Medical School in Providence, R.I., who was a fellow with Dr. Schumacher from 1978–1980.
From pioneering studies using electron microscopy on normal synovium, describing the value of synovial biopsy in diagnosis; to investigations on monosodium urate, calcium pyrophosphate dihydrate, and apatite crystal pathogenesis in synovial fluid and synovium; to reports of the histology of very early synovitis; to a just-completed study of acupuncture in arthritis, Dr. Schumacher's body of work is impressive for its range.1-3 "He is open to everything," comments Joshua Baker, MD, a current fellow in the division of rheumatology at the University of Pennsylvania and Dr. Daniel Baker's son. "The main thing about Dr. Schumacher is that he is, first and foremost, a scientist in the best sense of the word. He will not listen to a case without having a healthy level of skepticism about each part of it."
The senior Dr. Baker concurs, saying, "My most vivid impression of Ralph was his dedication to science. That's what he did: he was going to explore and study things, and he was persistent and relentless in his pursuit." After his own fellowship at Penn, Dr. Baker joined the faculty and collaborated with Dr. Schumacher at the VA for another 17 years.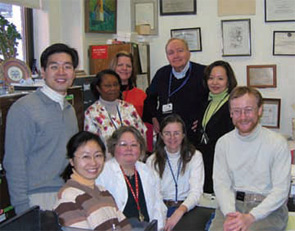 Dr. Schumacher (back center) and his laboratory team.
Following Threads of Discovery
Dr. Schumacher's intellectual curiosity and drive blossomed early in his career, although he had no idea that rheumatology would be his choice when he attended medical school at the University of Pennsylvania School of Medicine. Two electives—one spent in a Cachiquel-speaking Guatemalan village researching cures for Kwashiorkor, and another as an extern at the Talihina Indian Hospital in Oklahoma—were life-changing experiences. "Both of those experiences," he recalls, "showed me patients' suffering in these underserved populations and the scientific challenges [of finding cures for and treating disease]." They also sparked his interest in other cultures, demonstrated by the international pool of fellows and his longstanding collaborations with international rheumatology societies.