In his self-described "zigzag" career, John S. Sergent, MD, has managed to keep returning to what he loves. As a member of his high school and college debate teams, for instance, he considered going to law school for a while. But, as he further studied biology and chemistry, he realized he loved the medical sciences. "And that was the end of that," he says.
You Might Also Like
Explore This Issue
February 2010
Also By This Author
In medical school, he originally intended to pursue surgery but found that he didn't like the operating room. "When I rotated through medicine," he recalls during a recent interview from his Nashville, Tenn., office at Vanderbilt University where, since 2003, he has served as vice chair for education and director of the residency program for Vanderbilt's Department of Medicine, "I just loved the complex diagnostic problems. I also really liked the fact that the bulk of clinical teaching was done by people in internal medicine. Early on, I had this image that I would like to be involved in medical education."
ADVERTISEMENT
SCROLL TO CONTINUE
Dr. Sergent has been a clinical professor for much of his time in academia. But there have been other jobs, such as his eight years as chief medical officer for the Vanderbilt Medical Group, which was "definitely a right-angle turn in my career," he says. His current post is "really what I wanted to do my whole life."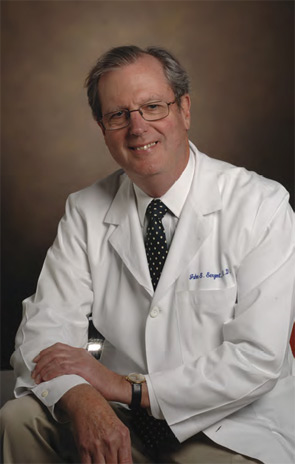 Dr. Sergent.
Passion for Rheumatology
Dr. Sergent's path to rheumatology was a bit serendipitous. He had applied as a fourth-year medical student to do his Public Health Service at the National Institutes of Health, fully expecting to work with an infectious disease expert. By the time he was finishing his residency at Johns Hopkins University in Baltimore, another director was taking over the lab and converting its focus to immunology. "I had enjoyed rheumatology while at Hopkins," Dr. Sergent explains, "and I found the immunology side of clinical medicine to be really interesting. Of course, immunology and rheumatology are closely related, and one thing led to another. I ended up doing a rheumatology fellowship under Dr. Charles Christian at Cornell [University Medical College in New York], and I never looked back."
ADVERTISEMENT
SCROLL TO CONTINUE
It is lucky for the field of rheumatology that he didn't, because many top rheumatologists credit him with their choice of specialty. In 1976, John P. Vansant, MD, was one of a group of young house staff at Vanderbilt University inspired to specialize in rheumatology. The catalyst for his choice was "a young, charismatic, extremely knowledgeable, outgoing, and energetic guy who convinced a host of medicine residents that the most exciting and challenging future of medicine was to be found in the field of rheumatology/immunology," he recalls. Dr. Sergent had just returned a year earlier to his alma mater to become its first section chief of rheumatology. His enthusiasm, recalls Dr. Vansant, was infectious. "All of a sudden, many of us became very much indoctrinated into the world of John Sergent's excitement for the rapidly advancing world of rheumatic disease."
"John played a critical role in revitalizing rheumatology in Nashville," agrees Robert D. Inman, MD, professor of medicine and immunology at the University of  Toronto. "As a medical resident at Vanderbilt, in 1975, I hadn't decided what kind of specialty to pursue. John influenced me in a direct way towards rheumatology and communicated this great sense of excitement and enthusiasm, and I still try to mimic that element in my teaching."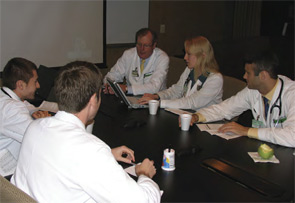 Dr. Sergent (back center) sharing knowledge with some young physicians.
Coming Full Circle
Since he first enrolled at Vanderbilt University as a Founders' Scholarship undergraduate nearly 50 years ago, John Sergent has served the university and rheumatology in numerous capacities. He was chief resident in medicine in 1971 and the first section chief of the division of rheumatology from 1975–1979. He later chaired the department of medicine at Vanderbilt-associated Saint Thomas Hospital and was chief medical officer of the Vanderbilt Medical Group from 1995–2003. In between, there was a stint in private practice, active (and continuing) involvement with the ACR (he was ACR president in 1992) and with the American Board of Internal Medicine (ABIM), where he chaired the Subspecialty Board on Rheumatology for an extended time to steer it through a redraft of the certification exam.
ADVERTISEMENT
SCROLL TO CONTINUE
His peers, former students, and fellows agree that his current assignment aligns with his strongest talents as a teacher and clinician. Eric G. Neilson, MD, Hugh Jackson Morgan Professor of Medicine and Cell Biology and chair and physician-in-chief of the department of medicine at Vanderbilt, appointed Dr. Sergent to the position because, he says, "it was a good chance to match a great skill set to a challenging job."
Says Dr. Vansant, "When they dragged John off into the world of administration for a few years, I told him, 'J.S. [as he is affectionately known by some of his former fellows], you've shown that you can do anything, but your calling is mentoring young physicians.' "
Focus on Patients
As a Vanderbilt faculty member since 1988, Dr. Sergent's warmth, good humor, and dedication to quality patient care have influenced many students and fellows. Dr. Inman notes that he still feels Dr. Sergent's influence even in his lab-based research studies at the University of Toronto. "Keeping the patient's care as the central motivating force has been a big factor in the translational aspect of our research," he says.
Wonder Puryear Drake, MD, assistant professor of medicine in the division of infectious diseases at Vanderbilt, first encountered Dr. Sergent when she was a medical student from 1992–1994. "What I remember about Dr. Sergent as a teacher was his incredible fund of knowledge," she says. "He could think not only broadly but also in great depth. And he was very committed to quality patient care."
Commitment to quality patient care has been a constant since Dr. Sergent's years as a medical student. Bevra Hahn, MD, division chief and professor of rheumatology at the David Geffen School of Medicine of the University of California, Los Angeles, met Dr. Sergent when he was an intern at Johns Hopkins, where she was doing her rheumatology fellowship under Lawrence E. Shulman, MD, PhD. "John was really quite outstanding in several ways. First of all, he's a very pleasant and interactive guy, so you want to talk to him. Secondly, he's really brilliant and had excellent ideas and probing questions."
Later, during his fellowship, Dr. Sergent questioned the propensity of rheumatologists to use high-dose intravenous methylprednisolone in acutely ill rheumatic patients, a treatment which is still popular, says Dr. Hahn. Dr. Sergent reported on a series of patients with central nervous system lupus given high-dose steroids, concluding that the adverse side effects with continued use outweighed potential benefits.1 Dr. Hahn admired the fact that Dr. Sergent proposed a timeline for curtailing that therapy if efficacy could not be shown. "Even at this time in history," she notes, "we all tend to make a plan, and if we're not getting a response, to keep trying it a bit longer. That's the kind of organizational, creative thinking that John was clearly capable of."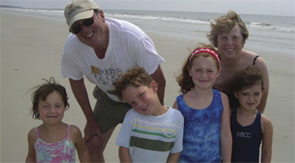 Dr. Sergent, his wife, Carole, and their four grandchildren vacationing on Hilton Head Island, S.C.
Leadership at Pivotal Points
In addition to his leadership in the department of medicine, Dr. Sergent has helped steer rheumatology through some difficult waters. While the initial division of the ACR (then called the American Rheumatism Association) and the Arthritis Foundation began in 1986, in reality the separation of the two organizations was "more of a process than a single event," notes Dr. Sergent.2 During his ACR Presidency (1992–1993), the relationship was still being untangled—and it was a "painful process," recalls Dr. Hahn. She was among those rheumatologists working on the separation, at a time when the new ACR worried about its ability to fund its missions. She gives Dr. Sergent substantial credit for helping to lead the organization through those rocky times and for helping to avoid the common history of other colleges of professionals, which sometimes splinter into separate enclaves of academics, clinicians, and researchers. Both she and Dr. Sergent agree that ACR is much stronger as an inclusive and unified organization.
Another pivotal point for rheumatology as a subspecialty occurred earlier, while Dr. Sergent served on the ABIM's Subspecialty Board on Rheumatology from 1982–1990 and as its chair from 1988–1990. At that time, committee members were charged with rewriting the board certification exam for rheumatology, which had not performed well. "We worked a lot harder than the average subcommittee," recalls Dr. Sergent. Frank C. Arnett, MD, professor of internal medicine and pathology and laboratory medicine and the Elizabeth Bidgood Chair in Rheumatology at the University of Texas Medical School at Houston, was also serving with the ABIM at that time, and recalls that Dr. Sergent's approach as committee chair was "always collegial. He's very knowledgeable, very scholarly—and very practical. He is the epitome of a Southern gentleman. He also plays a wicked game of tennis … not that we had too much time to play."
Epitome of the Vanderbilt Experience
Dr. Sergent has received numerous awards for teaching excellence—the most recent was an annual award permanently named, in 2007, the John S. Sergent Award for Excellence in Teaching. "In many ways, learning medicine is more of an apprenticeship than a lecture," reflects Dr. Inman. Dr. Sergent's appreciation of that element has strengthened the already-strong Vanderbilt ethos, often extolled by former students.
Dr. Vansant describes the Vanderbilt experience under Dr. Sergent's tutelage: "They did not teach residents, students, and fellows by making them feel small and inadequate. Intimidation was never a part of the learning process under John Sergent. The relationship was one of mutual respect. But make no question about it: There was no place for excuses or acceptance of mediocrity. It was understood that you would work as hard and as long as it took to do what was best for your patient."
J. Thomas John, MD, assistant professor of rheumatology and immunology at Vanderbilt, was Dr. Sergent's first fellow. He returned to Vanderbilt after time in private practice, some of which was spent in Dr. Sergent's private practice. "John is a charismatic soul," he says. "He spreads his energies around—and he's got a lot of them! The house staff at Vanderbilt is superb, and the depth of their character is a high reflection on him."
CAREER TIMELINE
1966–Earns his MD from Vanderbilt University School of Medicine
1968–Completes an internship and residency at Johns Hopkins Hospital
1968–Enters Public Health Service at the NIH
1971–Completes a residency at Vanderbilt University Hospital
1971–Becomes chief resident at Vanderbilt University Hospital
1974–Completes rheumatology fellowship at Cornell University Medical College
1974–Becomes assistant professor of medicine at Cornell
1975–Becomes assistant professor of medicine and chief of rheumatology at Vanderbilt
1977–Becomes associate professor of medicine at Vanderbilt
1979–Becomes associate clinical professor of medicine at Vanderbilt
1987–Becomes clinical professor of medicine at Vanderbilt
1988–Becomes chair of medicine at Saint Thomas Hospital
1988–Becomes professor of medicine at Vanderbilt
1992–Serves as president of the ACR
1995–Becomes chief medical officer at Vanderbilt Medical Group
2003–Becomes vice chair for education and director of the residency program at Vanderbilt
Camaraderie and Compassion
"Many of the things I took away from Vanderbilt are not found in a textbook of differentials and dispositions, such as the principle exemplified by John Sergent that you take your work very seriously but yourself not so much," says Dr. Vansant.
This is evident in the humor shared by the sources interviewed for this article. When asked about Dr. Sergent's talents as a teacher and mentor, Joseph W. Huston, III, MD, assistant professor, rheumatology and immunology, whom Dr. Sergent also inspired to join the field, joked, "We've had to trim off and refine some of his peculiar attributes, such as his memory for names. He has an incredible memory for everybody. It's almost pathologic!" Dr. Huston recalls attending a welcoming party for incoming house staff at Dr. Sergent's home. "You arrive at the house and there are 60 to 80 incoming house staff, and he knows every one of their names, their spouses' and children's names—all from studying their files and CVs."
Drs. Huston, Sergent, and others have remained a tight-knit group and are also members of a group that meets socially, calling themselves WEEDS—the Wednesday Evening Eating and Drinking Society.
Although Dr. Sergent is perhaps best known for his teaching, he has also remained a lifelong student, taking lessons from his rheumatology patients (some of whom he's treated for over 30 years) and patients at the end of life. He eloquently reflects on these lessons in his the op-ed column called "Healing Words," that he's written for The Tennessean over a 17-year period. In one of those columns, "Beth," he chronicled how one of his medical students took comfort about her own losses from an encounter with a patient. "As teachers, we concentrate on the written curriculum but know that equally important is the unwritten or hidden curriculum. The unwritten curriculum is what we teach by our attitudes and our values. Beth reminds us that for medical students, there is yet a third curriculum, that which we learn from our patients."3
Dr. Sergent continues to work full time with no plans for retirement any time soon, but in his free time he and his wife of 46 years, Carole, enjoy travel, hiking, doting on their four grandchildren, and playing golf, something they both took up so late in life that, as Dr. Sergent says, "We don't let an occasional triple bogey get us down!"
Dr. Drake, who is now a colleague of her former teacher (and who was the subject of a poignant "Healing Words" column about the unique relationship between herself, a young African-American resident, and her older Caucasian patient), reflects on Dr. Sergent's singular combination of intelligence and compassion.4 "Dr. Sergent is a supreme intellect, and he has employed those powers for good," she says. "While some people use their astuteness to acquire more power or personal wealth, he's not like that. He's used his incredible acumen to make house staff smarter, to make faculty more effective teachers, and to share his remarkable enthusiasm for medicine. All these ensure that patients have quality care. You look back and realize the world is better because someone used this great intellectual ability to make it so."
Gretchen Henkel is writing the "Profiles in Rheumatology" series.
References
Sergent JS, Lockshin MD, Klempner MS, Lipsky BA. Central nervous system disease in systemic lupus erythematosus. Therapy and prognosis. Am J Med. 1975;58:644-654.
History of the ACR. Available at www.rheumatology.org/about/history/index.asp. Accessed January 5, 2010.
Sergent JS. "Beth." Healing Words: A compilation of the best columns of John Sergent, MD. Cold Tree Press; Nashville, Tennessee. 2009.
Sergent JS. "Wonder." Healing Words: A compilation of the best columns of John Sergent, MD. Cold Tree Press; Nashville, Tennessee. 2009.