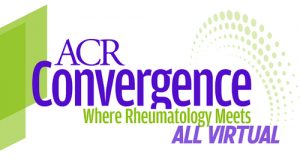 ACR CONVERGENCE 2020—At the annual meeting's second Plenary Session, Saturday, Nov. 7, speakers highlighted phase 2 results of a potential new biologic for systemic lupus erythematosus (SLE), as well as data on remission maintenance in rheumatoid arthritis (RA) after withdrawal of etanercept or methotrexate.
Phase 2 Trial of Monoclonal Antibody for Lupus (LILAC)
Several converging lines of evidence suggest type I interferons play a key role in the pathogenesis of lupus, including recent trials demonstrating clinical effectiveness of anifrolumab, a monoclonal antibody that blocks the type I interferon receptor. Richard Furie, MD, chief of the Division of Rheumatology at Northwell Health, in Great Neck, N.Y., presented promising results from a phase II trial of a different monoclonal antibody, BIIBO59, which interfaces with the pathway through another mechanism.1
Plasmacytoid dendritic cells are responsible for the bulk of type I interferon production in lupus and are abundant in the skin of lupus patients. BIIBO59 is an antibody to a protein unique to these cells, blood dendritic cell antigen 2 (BDCA2). The binding and internalization of the antibody results in inhibition of type I interferon, but also of various cytokines and chemokines, such as IL-6 and TNF-α.
An earlier phase I study of 12 lupus patients with cutaneous disease had demonstrated inhibition of the interferon gene signature, downregulation of an interferon-regulated protein and clinical improvement in skin activity as measured by the Cutaneous Lupus Erythematosus Disease Area and Severity Index-Activity (CLASI-A).2
Participants in the LILAC trial met at least four of the 11 ACR classification criteria, with at least four tender and at least four swollen joints (via 28-joint assessment), active skin disease as defined by the Systemic Lupus Erythematosus Disease Activity Index 2000 (SLEDAI-2K) and positive serology. Sixty-four patients were randomized to receive BIIB059 mg, with another 56 receiving placebo. These were administered every four weeks for 20 weeks, with an additional dose at week two.
Dr. Furie noted the trial met its primary endpoint: "Receipt of BIIB059 was associated with significant reduction in the total active joint count."
Moreover, the patient group receiving BIIB059 demonstrated a statistically significant improvement in their SLE Responder Index-4 (SRI-4) response rate. Dr. Furie observed, "Like most other [lupus] trials, the driver of the significant and robust SRI response was the four point reduction in SLEDAI."
A higher number of patients in the BIIB059 group also achieved a 50% reduction in their CLASI-A score, although this did not reach statistical significance. Safety signals were similar between the placebo and treatment groups.