Distinguished Basic Investigator Award
You Might Also Like
Explore This Issue
January 2012
Also By This Author

Steven Abramson, MD
Senior Vice President and Vice Dean for Education, Faculty, and Academic Affairs, Professor of Medicine and Pathology, New York University School of Medicine, Director of Rheumatology, NYU-Hospital for Joint Diseases, New York City
ADVERTISEMENT
SCROLL TO CONTINUE
Background: A New York City native, Dr. Abramson attended Dartmouth College in Hanover, N.H., earned his medical degree at Harvard University in Boston, and completed his residency and postdoctoral fellowship at NYU. The bright lights of the big city, a "fascination" with immunology, and a cadre of researchers committed to rheumatology not only piqued his interest, they kept him at NYU for nearly four decades. Internationally recognized for his work in inflammation and antiinflammation, Dr. Abramson's research currently is focused on mechanisms of inflammation in osteoarthritis, namely inflammatory mediators and novel genes. He is past president of the Osteoarthritis Research Society International, former chairman of the Arthritis Advisory Committee of the Food and Drug Administration (FDA), and former chair of the ACR's Drug Safety Committee. He currently is a member of the National Institutes of Health (NIH) Skeletal Biology Structure and Regeneration Study Section.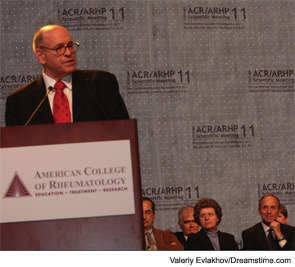 Outgoing ACR President David G. Borenstein, MD, introduces the award winners.
Q: You've mentored hundreds of research trainees. What are some of the keys to being a good mentor?
ADVERTISEMENT
SCROLL TO CONTINUE
A: You have to understand your role and responsibility when young people come into your division or unit, with regard to the fact that they are in careers that don't necessarily have a clear and single pathway. … Number two, you have to be excited about the field, and you have to be able to generate that enthusiasm in younger people.
Q: You've been involved with the ACR in a variety of volunteer capacities. What has that meant to you professionally and personally?
A: I think the ACR is a great organization. It's been growing each year. It's a wonderful way to come together with your colleagues and begin to address important issues in the field, both those affecting physicians and trainees and major questions in science.
ADVERTISEMENT
SCROLL TO CONTINUE
Q: You've had a front-row seat to the evolution of drug safety in this country. How has drug safety, with respect to rheumatology, evolved in the last 30 years?
A: It certainly has grown up. Things that used to happen locally and required just a handful of people now are happening at a global level. … What we learned was that all drugs have side effects, and some of the drugs with side effects are still very important to treat our patients.