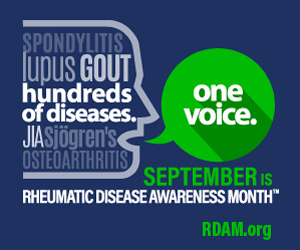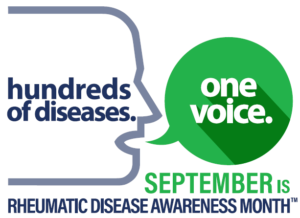 Every September, the ACR and Simple Tasks recognize Rheumatic Disease Awareness Month (RDAM), and the RDAM 2020 campaign won top honors in three categories in the 2021 Ragan Public Relations (PR) Daily Awards. The ACR's campaign was awarded with Health Care Communications Campaign of the Year, Best PR Campaign for Healthcare Public Relations and Marketing, and Best Patient-Focused Content.
The theme for RDAM 2020 was "Our Diseases May Be Invisible, But We're Not." The campaign's call to action was for patients to share their stories of living with a chronic disease, which can often seem invisible to others.
"We're thrilled that the ACR's campaign elevating the voices and experiences of real patients was chosen for three top honors in Ragan's prestigious PR Daily Awards program, especially during a year unlike any other," says Erin Schmidt, senior advisor with Schmidt Public Affairs, Alexandria, Va. "This well-deserved recognition is a testament to the ACR's ability to innovate, adapt and continue to successfully raise awareness of the prevalence and impact of rheumatic diseases in America."
Schmidt Public Affairs collaborates with the College's public relations experts on RDAM and other outreach efforts through Simple Tasks, which raises awareness about rheumatic diseases through advocacy, education and the direct voices of patients and providers.
About the Awards
The Ragan PR Daily Awards recognize the most outstanding public relations campaigns and initiatives of the year. The award program accepted entries from organizations worldwide, and award applicants are required to submit detailed entries, including campaign metrics, media coverage and creative materials.
Earning the Health Care Communications Campaign of the Year award is significant for the ACR and its members and the broader community of patients and providers who work to raise awareness about rheumatic disease.
The second award honors RDAM 2020 as the top PR Campaign for Healthcare Public Relations and Marketing, recognizing the campaign's effectiveness in engaging its audiences and the media.
The award for Patient-Focused Content honors the heart of what Ms. Schmidt and her colleagues wanted to focus on for the campaign: elevating the voices of people living with chronic rheumatic diseases.
"Being awarded top honors in these three categories is especially significant given the enormous challenges of the ongoing pandemic and the important role of healthcare communications during COVID-19," Ms. Schmidt says.
Why Voices of People with Rheumatic Diseases Matter
An essential element of the campaign that proved successful was the College's collaboration with three patient spokespeople: Kim Schofield, Chandler Woods and Jill Abbott. Each provided feedback on the campaign's theme and messaging. They shared their personal stories of what it's like to live with a chronic disease that sometimes feels invisible.