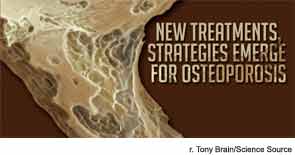 Colored scanning electron micrograph (SEM) of an osteoporotic femur head. In places, the surface of the bone has been eroded to reveal the underlying tissue.
WASHINGTON, D.C.—Using bisphosphonates to prevent the loss of bone mass associated with rheumatic conditions can require a deft touch—and even some guesswork—because it is unclear how long they should be used. The longer they're used, the more likely it is they might cause harm, an expert said during a session titled, "Osteoporosis: From Bisphosphonates and Beyond," here at the 2012 ACR/ARHP Annual Meeting, held November 9–14. [Editor's Note: This session was recorded and is available via ACR SessionSelect at www.rheumatology.org.]
This is an area that calls for caution, Chad Deal, MD, head of the Center for Osteoporosis and Metabolic Bone Disease at the Cleveland Clinic, said during the session about the latest in treatment for, and management of, osteoporosis.
ADVERTISEMENT
SCROLL TO CONTINUE
"It's pretty clear from the data that these atypical [femur] fractures are increased with increasing use," Dr. Deal said. One study found that the number of atypical femur fractures stood at 113 per 100,000 patients per year at about the eighth year of taking the drugs.1
According to two prominent studies on the topic, the number of patients you need to treat to prevent a hip fracture is 91, and the number needed to treat to prevent a radiographic vertebral fracture is 14. The number needed to harm with an atypical femur fracture is 417.1,2
ADVERTISEMENT
SCROLL TO CONTINUE
"For each atypical fracture caused, at least 30 vertebral and five hip fractures are prevented," Dr. Deal said.
When to Stop Bisphosphonates
The U.S. Food and Drug Administration (FDA) has been vague when it comes to how long bisphosphonates should be used, but suggests there might be no advantage in continuing treatment after five years.
The evidence, though, shows there might be benefit to taking the drugs longer. For instance, people taking alendronate longer than five years showed more lumbar spine bone mineral density improvements after the fifth year than those who switched to placebo at five years.3
ADVERTISEMENT
SCROLL TO CONTINUE
One study by Dieb and Watts that has been submitted for publication suggests grouping patients into mild, moderate, and high-risk fracture categories based on their history of fracture, clinical risk factors, and fracture risk scores (T scores and FRAX), with the higher risk groups getting longer duration of treatment.
Other Drugs to Prevent Bone Loss
Nelson Watts, MD, director of the Mercy Health Osteoporosis and Bone Health Services in Cincinnati, said that denosumab, a receptor activator of nuclear factor κB ligand (RANKL)–inhibitor approved in 2010 for women with postmenopausal osteoporosis who are at high risk of fracture, performs well.