Canadian Pediatric Rheumatologist Invested into Order of Canada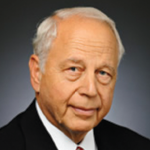 Peter Dent, MD, professor emeritus of pediatrics at McMaster University in Hamilton, Ontario, Canada, was invested into the Order of Canada in May. The Order of Canada is the country's highest civilian honor.
"Dr. Dent has had a substantial positive impact on healthcare, in Hamilton and far beyond, in so many ways during his long career as a researcher, clinician and administrator," says Paul O'Byrne, dean and vice president of the Faculty of Health Sciences at McMaster University. "This honor is well deserved."
Dr. Dent's 50-year career as a clinician holds many highlights. He joined McMaster's School of Medicine (now known as Michael G. DeGroote School of Medicine) in 1967, its sophomore year, as an immunologic research scientist. He went on to create Canada's original multidisciplinary program in immunology and virology.
It was immunology that brought Dr. Dent to rheumatology. While doing his pediatrics residency at the University of Minnesota, he got interested in the then-emerging field of immunology. His immunology mentor was also a rheumatology pediatrician. By the time he returned to Canada, he was trained in rheumatology and immunology, and had completed a residency in pediatrics.
He was McMaster's Department of Pediatrics chair from 1980–1990. During that period, he established the McMaster Children's Hospital and was instrumental in developing Hamilton's Ronald McDonald House. From 1990–1997, Dr. Dent held several senior hospital appointments, including vice president (medicine) for Chedoke McMaster Hospitals and director of research for Hamilton Health Sciences. He became professor emeritus for Hamilton Health Sciences in 1996 and worked with the Ontario Ministry of Health and Long-Term Care on alternative funding for academic physicians. In 2004, Dr. Dent was named an ACR Master.
From 2002–12, he served as associate dean, clinical services for the Faculty of Health Sciences, McMaster University. He retired as the head of pediatric rheumatology in 2015. Now his energies are spent on committees that screen for the genetic aspects of rheumatology. His time is mostly devoted to teaching and administration.
Now in his early 80s, Dr. Dent says, "You can teach, research and administrate past your due date, but when you're delivering healthcare, you need to be at the top of your game."
In 2004, Dr. Dent was named an ACR Master.
Pediatric Rheumatologist Receives Honorary Degree from Alma Mater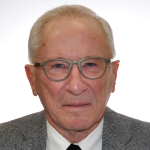 Ross Petty, MD, received an honorary Doctor of Science degree at the 2018 spring convocation of his alma mater, the University of Saskatchewan in Saskatoon.