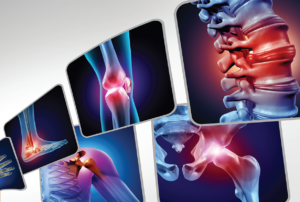 When Moll and Wright first described the spondyloarthritides in the early 1970s, the archetype of the group was ankylosing spondylitis (AS).1 The shared clinical features of the spondyloarthritides were sacroiliitis; asymmetric large joint peripheral arthritis; psoriasis or psoriaform skin lesions, including keratoderma blennorrhagica; uveitis; and bowel inflammation.
You Might Also Like
Explore This Issue
June 2022
Moll and Wright described five clinical subgroups of psoriatic arthritis (PsA), with pure axial involvement in about 5% of cases. However, recent reports from Dafna Gladman's group in Toronto have described co-existing peripheral and axial involvement (defined by symptoms and/or radiography) in over 50% of cases with increasing axial disease as time progresses.2,3 With the introduction of the term axial spondyloarthritis (axSpA) some confusion has arisen: This article discusses radiographic axSpA (AS) and axSpA in PsA, referred to as axPsA.
ADVERTISEMENT
SCROLL TO CONTINUE
AxPsA can have two radiographic phenotypes: the classic axSpA (AS) phenotype and an alternative phenotype characterized by fewer symptoms, less symmetry of axial radiographic features, less involvement of the sacroiliac joints, relatively more involvement of the cervical spine and morphologically different syndesmophytes.4
Moreover, the clinical presentation of axPsA differs from that of axSpA: Patients tend to be older at presentation, with less back pain, less inflammatory back pain, less limitation of movement and less emphasis on male predominance.5
ADVERTISEMENT
SCROLL TO CONTINUE
Genetics
Genetic differences also exist. Although human leukocyte antigen B27 (HLA-B27) is the predominant gene in inflammatory spinal disease, it is found less often in patients with axPsA. HLAB* 08 and HLA-B*38 are associated with axPsA, but not the ERAP1 and ERAP2 genes found in axSpA.6 These differences between the classic and alternative phenotypes are summarized in Figure 1.
The exact proportion of the classic and the alternative phenotypes in axPsA has yet to be determined, but because the phenotypes are likely driven by HLAB27 and because the proportion of patients with HLA-B27 in axPsA is between 19% and 40%, the likely ratio is in favor of the alternative phenotype.5,7,8
Implications for Clinical Practice
What is the importance of this for clinical practice? Does it really matter to clinicians? Yes, it does. Many of our patients with axPsA will go unrecognized, partly because peripheral musculoskeletal manifestations may predominate, but partly because the axial disease is less symptomatic. Even if the clinician routinely X-rays the sacroiliac joints, a certain proportion of axPsA will be missed because the disease may be visible only on magnetic resonance imaging and not plain radiographs and because spondylitis may occur in the absence of sacroiliitis in potentially up to a third of all patients with axial involvement in PsA.8