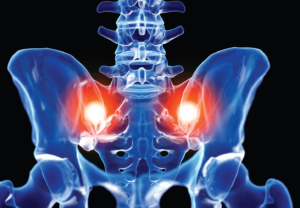 The axial phenotype of psoriatic arthritis (axPsA) is an excellent example of a major controversy in rheumatology that has become the focus of attention because of the emergence of new therapies with different mechanisms of action for alleviating joint inflammation. It was first described in 1961 but, until recently, it has largely remained under the radar of many rheumatologists, being regarded as a forme fruste of ankylosing spondylitis (AS).1 This has been reinforced by its association with human leukocyte antigen B27 (HLA-B27) and radiographic findings in the spine and sacroiliac joints (SIJ) resembling those observed in AS.
A resurgence of interest has been sparked by emerging data from clinical trials that axPsA and AS may respond differentially to therapeutic agents. In particular, although therapies targeting interleukin (IL) 23, such as ustekinumab and risankizumab, were not effective in trials of AS, post hoc analyses of PsA trials have reported efficacy in subgroups of patients who had spinal symptoms, in addition to their peripheral joint inflammation, and were deemed to have axial inflammation (axPsA), per the opinion of the local investigator.2-5
ADVERTISEMENT
SCROLL TO CONTINUE
This has generated controversy: Are these differences in response to treatment real, or do they reflect the lack of an evidence-based case definition for axPsA? Are some patients being misdiagnosed as having axPsA, when their back pain actually has another cause? Also, outcome measures that lack specificity for axial inflammation may actually reflect improvement in peripheral joint inflammation.6 For example, patients reporting improvement in their peripheral joint symptoms on questionnaires, such as the Bath Ankylosing Spondylitis Disease Activity Index (BASDAI), may also report improvement in spinal symptoms as a bystander effect.
A major international study aimed at providing the evidence for a new case definition is underway, the Axial Involvement in Psoriatic Arthritis Cohort (AXIS), but an expert consensus has already emerged that any such definition must include radiographic evidence of axPsA.7,8
ADVERTISEMENT
SCROLL TO CONTINUE
In my overview of this topic, I outline what is currently known about the imaging of axPsA, how imaging may complement clinical assessment, the pitfalls of imaging assessments typically used in routine evaluation of axPsA and how imaging can be used to help define patients with axPsA.
axPsA Imaging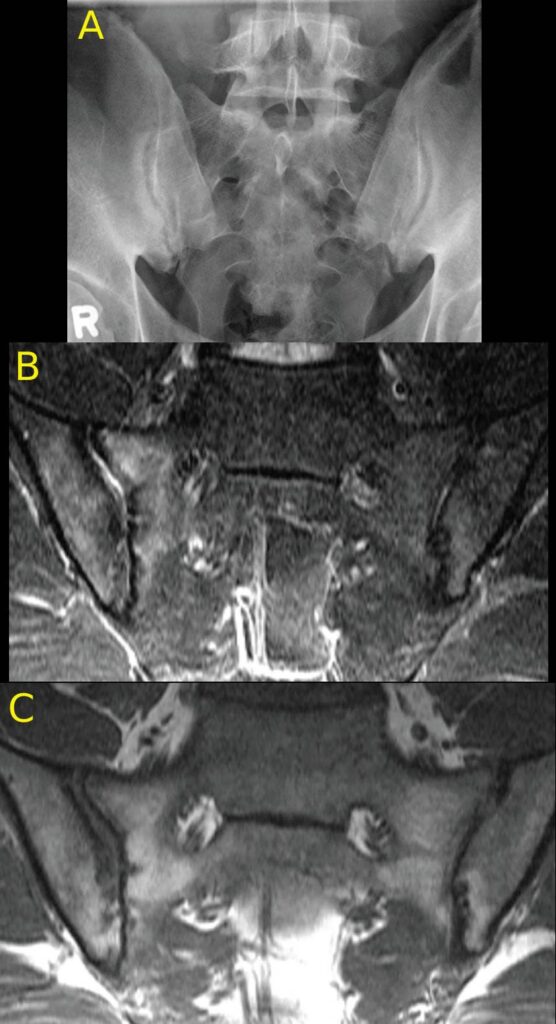 FIGURES 1a, 1b and 1C (click to enlarge). A 33-year-old male nurse presents with lower back pain of nine months' duration that has inflammatory characteristics. He has mild scalp psoriasis and oligoarticular synovitis that are well controlled on 20 mg of methotrexate by mouth weekly. The physical exam is unremarkable. HLA-B27 is negative and C-reactive protein (CRP) is 18 mg/L (normal range: <5–10 mg/L).