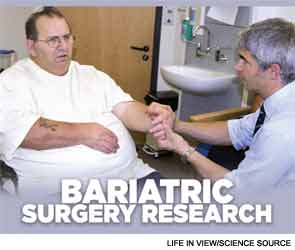 You Might Also Like
Explore This Issue
August 2014
Also By This Author
A recent prospective longitudinal study has reported that bariatric surgery lowered serum urate levels in morbidly obese patients with diabetes, with most of the study participants who had previously been treated for gout able to discontinue the therapy after surgery.
ADVERTISEMENT
SCROLL TO CONTINUE
Published in May 2014 Annals of the Rheumatic Diseases, the research by Nicola Dalbeth, MD, and colleagues in New Zealand detected clinically relevant reductions in serum urate levels following bariatric surgery in patients who had diabetes and were morbidly obese. The mean BMI of patients in the study was 47.9 kg/m2. According to the researchers, the study shows that for patients with gout, morbid obesity and diabetes "bariatric surgery allows achievement of therapeutic target [serum urate] concentrations and may enable cessation of urate-lowering therapy."
Although bariatric surgery is not a recommended treatment for gout, the study results can serve as a reminder that gout is closely tied to metabolic syndrome, that a patient's comorbidities and gout should be treated aggressively, and that medications for other conditions can play a significant role in its development and worsening.
ADVERTISEMENT
SCROLL TO CONTINUE
According to John FitzGerald, MD, PhD, who was not involved in the study but commented on its implications, "The research should remind rheumatologists and generalists to treat gout as part of hypercholesterolemia, hypertension and obesity. It reminds us that weight loss can influence the comorbidities and can help improve gout."
Dr. FitzGerald, principal investigator on the ACR's gout management guidelines published in 2012 and associate clinical professor of medicine at the University of California, Los Angeles, says the trial "reinforces the need to treat gout as part of the metabolic syndrome. You can't just focus on the gout. You need to encourage patients to try and improve their lifestyle."
The ACR guidelines make clear that gout is mediated by comorbidities that promote hyperuricemia, including hypertension, obesity, metabolic syndrome, type 2 diabetes and chronic kidney disease, and the guidelines underlined the importance of treating and managing those comorbidities to effect improvement in hyperuricemia.
ADVERTISEMENT
SCROLL TO CONTINUE
Monitoring a patient's medications for these comorbidities is important, Dr. FitzGerald says, noting that 42% of the patients with gout in the study were taking diuretics, which can aggravate hyperuricemia. "It's entirely possible that if the group had been switched from diuretics to other blood pressure medications, there would have been similar results in serum urate lowering [as were achieved with bariatric surgery]."
Trial Design
Sixty patients were included in the single-center trial. Inclusion criteria included age between 20 and 60, diagnosis of type 2 diabetes, treatment with oral hypo­glycemia medication or insulin, BMI of at least 35 kg/m2 and no contraindications to surgery. The average age of patients was 46. Thirty-two percent of the population was Maori, 30% was Pacific Islander, and 38% was European/other. The study authors cautioned that several of these factors may limit whether the results can be generalized to other populations.