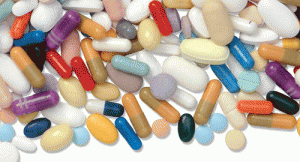 In one Phase 3 study presented at the 2015 meeting of the European League Against Rheumatism (EULAR), researchers randomized 596 patients to receive either etanercept (ETN) or an etanercept biosimilar (SB4) in patients with moderate to severe rheumatoid arthritis (RA) despite methotrexate (MTX) therapy.1 Patients received SB4 50 mg (n = 299) or ETN 50 mg (n = 297) administered subcutaneously weekly for 52 weeks. Demographics were similar between the two treatment groups.
You Might Also Like
Also By This Author
The primary endpoint (ACR20) at Week 24 was similar between the two treatment groups: 78% for SB4 and 80% for ETN. ACR50 responses at Week 24 were 47% and 42% for SB4 and ETN, respectively. ACR70 responses were 26% and 23%, respectively.
ADVERTISEMENT
SCROLL TO CONTINUE
The safety profile of SB4 was similar to ETN. At least one treatment-emergent adverse event (TEAE) occurred in 55% of SB4-treated patients and 58% of ETN-treated patients. Serious infections occurred in 1.3% of ETN-treated patients (n = 4) and 0.3% of SB4-treated patients (n = 1). Injection site reactions were also more common in ETN-treated patients (17% v. 4%). SB4 showed similar clinical efficacy and safety compared with ETN.
In a separate descriptive, cross-sectional study, Santos-Moreno et al evaluated the effectiveness of an etanercept biosimilar (Etanar) to adalimumab and infliximab in patients with long-standing RA in a real-life setting.2 Patients who visited a rheumatologist at least six times in the prior two years were included.
ADVERTISEMENT
SCROLL TO CONTINUE
Patients were divided into two groups: a remission/low disease activity (LDA) group and a moderate to severe disease activity group (SDA). Determining the percentage of SDA patients who reached LDA or remission was the study's goal. Clinical follow-up evaluated the DAS28 at different points within the study. The average patient age was 59 (± 10 years) with a disease duration of 11 years; 158 patients were included; 61 received adalimumab; 62 received etanercept biosimilar; and 35 received infliximab.
At Month 24, there was a statistically significant increase in the percentage of patients in remission and a statistically significant decrease in the percentage of patients with SDA. For all three biologics, the DAS28 was 3.6 at baseline and 2.6 at Month 24. There were no statistically significant differences between the three biologics. In addition, there were fewer adverse events with the etanercept biosimilar than with adalimumab and infliximab.
Additionally, the therapeutic equivalence of BOW015 (infliximab biosimilar) was evaluated in reference to infliximab (rIFX, Remicade) in 189 subjects with active RA in a randomized, 54-week, double-blind, active comparator Phase 3 study.3 The objectives were to determine whether BOW015 had equivalent efficacy in suppressing disease activity (DAS28-CRP) and physical function (HAQ-DI) when combined with patients' stable doses of MTX (10–20 mg/week).