If someone had said that, while I was editor of The Rheumatologist, I would write about my escape from a volcano, I would have said that he was crazy. Volcanoes are very rare events and cause trouble in either distant parts of the world or during ancient times. Durham, N.C., is not Pompeii, and there are no tumultuous eruptions around here (except when Duke wins the NCAA championship in basketball). Nevertheless, in 2010, Eyjafjallajökull up in Iceland (a distant part of the world) blew its top. It just so happened that, at the time, I was attending a rheumatology meeting near Nice in southern France, downwind from the cloud of ash that spewed all over the continent. The authorities wisely grounded flights from Nice and, as I have recounted in these pages, I should have gotten home via planes, trains, and automobiles although, because French train workers' unions decided to go out on strike, I had to substitute a van for a train. Were it not for Carla Bruni, Marion Cotillard, and Chambolle-Musigny, I would have trouble with modern-day France (except, of course, French rheumatology).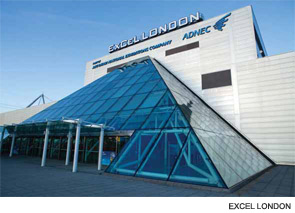 The ExCel, London's convention center and the site of EULAR congress.
Although I had assumed that a volcano raining ash on a rheumatology party was a once-in-a-lifetime experience, just a few days before I was scheduled to fly to London for the 2011 European League Against Rheumatism (EULAR) Congress, another Icelandic volcano called Grímsvötn decided to explode and compete for its place in the Hall of Shame of travelers' woes. One of my friends, also scheduled to go to EULAR, wrote to me in an e-mail that the gods must have it in for rheumatologists. Although a particular animus of the deities against our specialty is possible—perhaps they decided that, with the elimination of the consultation code, we are no longer worth their favor—I have a different world view. As we used to say, sh-t happens.
Tracking the Volcano
The interval between the blowup of the volcano and the time of my scheduled departure to London was reminiscent of the time in Nice. From its first eruption, however, it was clear that Grímsvötn was not that powerful on whatever the Richter scale is for atmospheric pollution by the Earth's innards. Still, the pictures of the volcano showed dense clouds of ash that certainly seemed menacing and raised fear about what could happen if a plane hit the ash head on. I certainly did not want to be aloft if my plane's engines would be fouled by nasty little particles roasted and toasted in the Earth's core.
Being modern, I checked the websites for CNN and The New York Times every few minutes to get updates on the ash cloud's peregrinations. Not satisfied with the coverage by the media big boys, I Googled up a storm with entries like "volcano flight delays" and "volcano Heathrow schedules." In all the coverage, misinformation, speculation, and fear mongering abounded. Once, I panicked when I read about horrific delays at Heathrow, only to discover that the entry was from 2010. One airline claimed that it sent up one of its planes, which encountered not a single speck of volcanic material. Rubbish, the authorities objected. They said that the test plane had flown in the wrong direction and it was possible that dangerous ash lurked around the stratosphere.
A look at Google images produced some nifty maps showing the projected movement of ash, with densities of particles plotted for every 500 meters of altitude every six hours. Unfortunately, this was all theory and, if a wind gusted in Reykjavík, the projections would go out the window. As you may remember from chaos theory, small perturbations can have a big impact on subsequent atmospheric events, with the flap of a butterfly's wings in Borneo juicing up a hurricane in the Bahamas. Thinking about such an eventuality, I went into the backyard of my house to see if any butterflies flitted around. If I found one, I would have smacked it dead, lest the fluttering of its wings stir up a chain reaction that could propel ash toward London.
Over days of alternating worry, consternation, and incessant consultation with websites (I probably was responsible over 1,000 hits on sites that had something to do with volcanoes), Grímsvötn settled down, its small stack blown, and ash and soot dissipated to safe levels as it mostly fizzed and steamed. With some trepidation, my wife and I packed our bags and headed to the airport (Raleigh-Durham International Airport, we are big time), although I took a few days' extra clothes in case Grímsvötn changed its mind and wanted another go at environmental spoiling. With me safely buckled into seat 17A, flight AA174 took off on time, leaving the swelter of Durham for the pleasant chill of London that the English quaintly call summer.
Culling Lessons from Natural Disaster
As in the case of the Eyjafjallajökull volcano, there are many lessons that a natural disaster can teach although, honestly, getting stranded for a few days is not the worst thing that can be happen, especially if the stranding takes place in the Riviera or South Kensington. The analogies with catastrophic illness are, of course, very strong as I have previously written. I do not have any new insights on the occasion of Grímsvötn, but, still, the perspective of two possible calamities can reinforce understanding. Since the purpose of this column is to discuss EULAR, I will be brief. Here are a few lessons:
Uncertainty sucks. Uncertainty accompanied by hysteria sucks more. A support group is good, even by email (except if there is a hysteric in the group—stay away, Chicken Little). Reliable information—whether good or bad—clarifies thinking. Denial is inherent in human nature. Memory is short. Think twice before you risk getting stuck overseas just so that you can chair a 90-minute session at an international meeting. (That lesson is for some of my buddies and me.)
Flight 174 was fine, although I worried that a bit of turbulence we experienced near Newfoundland was a disturbance emanating from Grímsvötn (maybe the gods do have it in for rheumatologists). It turned out the bumps were the usual North Atlantic blustering and, happily, we landed on time.
After clearing immigration, we went off to the arrival hall and were happy to find our luggage contentedly riding the conveyor belt. We then negotiated our way from Heathrow—the busiest and likely the most confusingly designed airport in the world—and took the tube to our hotel. Unlike the Royal newlyweds—Weren't Kate and William a smashing couple?—there was no horse-drawn carriage for us. Our hotel was near the Canning Road station, just a short walk from the ExCel, London's convention center and the site of EULAR congress.
Getting Settled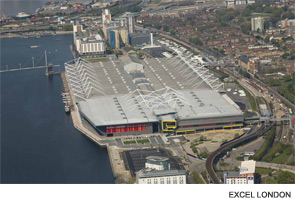 The ExCel was absolutely gigantic and was situated at the edge of the harbor where the old cargo derricks, stripped and painted black, stood as a reminder of the area's history. The ExCel is so long that each end has its own train station from the Docklands Light Rail.
That part of London is called Royal Docks and has a strange feel, as does the nearby Canary Wharf, the London equivalent of Wall Street. Canary Wharf looks like a dead ringer for downtown Dallas or Denver, all modern chrome and glass, without a touch of old-world charm. The area around the convention center reminded me of parts of Queens or New Jersey as lorries rumbled over highways and jets taking off from London City Airport screeched and roared.
The term that came to mind to describe the area was bombed out although sadly, in this case, the term is true. During the Second World War, the area was subjected to ferocious bombardment by the Nazis because it was a center of shipping. It is always interesting that, in thinking about places or events at EULAR, World War II is never far away, although the armistice was signed almost 70 years ago. It is startling and heartening to realize that, at a site of horrible death and destruction, a gleaming congress center now hosts people from all over the world who congregate in excited celebration of medical advance.
After a refreshing nap at my hotel, a Holiday Inn Express, I took off for the ExCel. I confess, in choosing to stay at the Holiday Inn Express, I had been susceptible to the heavy television advertisement of this chain. I especially enjoy the ads in which a person sounds very erudite and authoritative when expatiating on something and then is asked whether he is a computer engineer or astrophysicist. "No," he answers, "but I stayed at a Holiday Inn Express," as if that lodging choice alone was transformative, conveying great intelligence or special learning. I could only imagine myself talking about the role of apoptosis in the pathogenesis of lupus and, when asked, "Are you an immunologist?" I could answer, "Yes, and I stayed at a Holiday Inn Express." Trust me, I should have splurged despite the state of the dollar. The Connaught would have been a lot more commodious, even if it didn't make me smarter.
The ExCel
As Ed Sullivan would have said about EULAR 2011, "We have a big show, a really big show." The ExCel was absolutely gigantic and was situated at the edge of the harbor where the old cargo derricks, stripped and painted black, stood as a reminder of the area's history. From the distance, the ExCel looked to me like a bird, with a central core for the body and the flanking areas for the conference rooms and exhibit halls the wings. There are no metaphors to describe structures like the ExCel as they are strictly a modern creation. I could say that the ExCel was as big as a battleship, but it would probably be more accurate to say that ExCel could house the entire Sixth Fleet. The main promenade stretched to the horizon. The ExCel is so long that each end has its own train station from the Docklands Light Rail. I would not have been surprised to hear that Ryanair would soon have cheap flights to travel the distance more quickly from entrance to entrance.
Not satisfied with the coverage by the media big boys, I Googled up a storm with entries like 'volcano flight delays' and 'volcano Heathrow schedules.'
Even though the ExCel had a remarkable array of restaurants, serving everything from samosas to Cornish pasties to bacon butties, there were no pubs for imbibing the famous warm British beer (although it is now served pretty cold and comes from the Continent; instead of Watneys Red Barrel, people now drink Stella). I had no alternative but to gather some CME and attend sessions and perambulate along the long rows of posters.
As the new data presented made clear, our field continues to witness great progress as outcomes in the treatment of rheumatic disease improve impressively, new drugs gain approval, and the number of rheumatologists around the world skyrockets. More than 16,000 people attended this year's EULAR congress, coming from over 120 countries. EULAR is really an international meeting that is held in Europe, just as the ACR is really an international meeting held in the United States.
Having braved nature's fury and man's feats of engineering to arrive safely at EULAR, I will pause here. Next month's column will discuss the science and pageantry of EULAR 2011.
Dr. Pisetsky is physician editor of The Rheumatologist and professor of medicine and immunology at Duke University Medical Center in Durham, N.C.