Uncertainty sucks. Uncertainty accompanied by hysteria sucks more. A support group is good, even by email (except if there is a hysteric in the group—stay away, Chicken Little). Reliable information—whether good or bad—clarifies thinking. Denial is inherent in human nature. Memory is short. Think twice before you risk getting stuck overseas just so that you can chair a 90-minute session at an international meeting. (That lesson is for some of my buddies and me.)
Flight 174 was fine, although I worried that a bit of turbulence we experienced near Newfoundland was a disturbance emanating from Grímsvötn (maybe the gods do have it in for rheumatologists). It turned out the bumps were the usual North Atlantic blustering and, happily, we landed on time.
After clearing immigration, we went off to the arrival hall and were happy to find our luggage contentedly riding the conveyor belt. We then negotiated our way from Heathrow—the busiest and likely the most confusingly designed airport in the world—and took the tube to our hotel. Unlike the Royal newlyweds—Weren't Kate and William a smashing couple?—there was no horse-drawn carriage for us. Our hotel was near the Canning Road station, just a short walk from the ExCel, London's convention center and the site of EULAR congress.
Getting Settled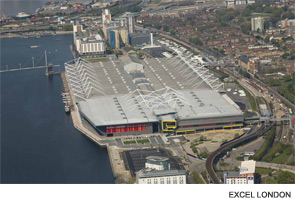 The ExCel was absolutely gigantic and was situated at the edge of the harbor where the old cargo derricks, stripped and painted black, stood as a reminder of the area's history. The ExCel is so long that each end has its own train station from the Docklands Light Rail.
That part of London is called Royal Docks and has a strange feel, as does the nearby Canary Wharf, the London equivalent of Wall Street. Canary Wharf looks like a dead ringer for downtown Dallas or Denver, all modern chrome and glass, without a touch of old-world charm. The area around the convention center reminded me of parts of Queens or New Jersey as lorries rumbled over highways and jets taking off from London City Airport screeched and roared.
The term that came to mind to describe the area was bombed out although sadly, in this case, the term is true. During the Second World War, the area was subjected to ferocious bombardment by the Nazis because it was a center of shipping. It is always interesting that, in thinking about places or events at EULAR, World War II is never far away, although the armistice was signed almost 70 years ago. It is startling and heartening to realize that, at a site of horrible death and destruction, a gleaming congress center now hosts people from all over the world who congregate in excited celebration of medical advance.