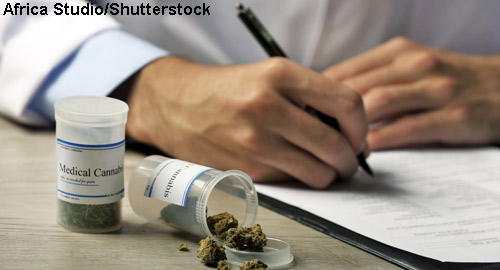 "Can marijuana help me?"
You Might Also Like
Explore This Issue
April 2018
Also By This Author
Barbara Goldstein, MD, MMSc, hears this question from patients throughout the day, every day. And she has noticed an increase in the number of patients asking it since 2014, when marijuana was legalized for anyone over the age of 21 to purchase in Colorado.1 Her answer is the same for each patient: "We just don't have enough reliable data to suggest cannabinoid use for patients."
ADVERTISEMENT
SCROLL TO CONTINUE
Dr. Goldstein worries that inhaled cannabis poses an antigen risk to the lungs and that cannabis edibles vary dramatically in dosing and the tetrahydrocannabinol (THC) content responsible for its mind-altering effects. "Topicals may be safe and effective, but we just don't have clinical trials and reliable preparations. I tell my patients all of this and that they have to use it at their own risk.
"What we need are trials that are conducted using scientific methods, are hypothesis driven and [use a] placebo or comparator product," she suggests. "Then we can review the information and decide how clinically relevant and generalizable [medicinal cannabis] really is."
ADVERTISEMENT
SCROLL TO CONTINUE
Some rheumatologists are taking a different approach. Jeff Peterson, MD, also shares his hope for clinical data on cannabis applications for patients with rheumatic diseases.
With this lack of data and faced with daily requests from patients about incorporating cannabis into their treatment, Dr. Peterson took a trip to a local, high-end pot shop in Washington, where marijuana become legal to sell in 2014.2 His goal was to understand what his patients were hearing from marijuana retailers. He learned how this retailer talks to customers about some of the common chemical compounds in recreational marijuana, including THC vs. cannabidiol (CBD), and received an education on different forms of marijuana, including edibles, tinctures and topical creams and ointments.
Dr. Peterson has also learned anecdotally about the perceived efficacy of marijuana from patients choosing to try it in different forms. The majority of his patients who use cannabis choose the topical cream or ointment to manage pain and find it helpful. But they note that the preparation—the dose and combination of THC/CBD—does make a difference. His patients who use a tincture form that is placed on the tongue report that it is effective for moderate relief of insomnia and anxiety, particularly among his patients with fibromyalgia. But these patients also note a difference with the dose and combination of THC/CBD.
ADVERTISEMENT
SCROLL TO CONTINUE
Although Dr. Peterson puts himself on the more holistic side of the rheumatology spectrum, he feels his patients deserve to be empowered with whatever knowledge is available and would prefer his patients feel comfortable talking to him about what they are using to complement their traditional treatment.
Even in states where marijuana isn't legal to purchase, such as Georgia, patients ask regularly about how marijuana and cannabis oil may be included in their treatment, says Kelly Weselman, MD, FACR, a rheumatologist with the WellStar Health System in Atlanta. "It's difficult to have to tell patients we just don't know," she says.
Evolving Research, Legalization
The research exploring medicinal cannabis in various forms for rheumatology is "evolving very rapidly," says Daniel Clauw, MD, a professor of anesthesiology, medicine (rheumatology) and psychiatry and director of the Chronic Pain and Fatigue Research Center at the University of Michigan in Ann Arbor.
He notes one of the most exciting studies in this area was recently completed by a pharmaceutical company for which he serves as a scientific advisory board member. During the study, researchers showed that CBD alone seems to be effective for treating osteoarthritis.
"This [finding] is exciting because CBD has very few side effects compared with THC," he shares. "Also, many research studies with cannabis are suggesting that low doses may be more effective than high doses." Dr. Clauw has also been involved in research exploring cannabis as a more effective option for pain relief than opioids.3,4
Regardless of trends toward legalization at the state level, marijuana is still considered a Schedule 1 drug by the U.S. federal government, a status that remains a significant barrier to research. However, Dr. Clauw suggests rheumatologists in the U.S. pay close attention to good quality studies on cannabis coming from colleagues outside of the U.S., including those working in Canada, Australia and Europe.
In Canada, Mary-Ann Fitzcharles, MD, an associate professor of medicine in the Division of Rheumatology and the Alan Edwards Pain Management Unit at McGill University in Montreal, has long explored the benefits and risks of medicinal cannabis, including its synthetic forms, for pain management.5
With the rapidly increasing legalization of marijuana, Dr. Fitzcharles believes focused clinical research is more critical than ever. In July 2018, marijuana will become a legal recreational substance throughout Canada and is currently available in the country for medicinal use by prescription. She says medical marijuana is available in varying concentrations of THC and CBD. But some concentrations of THC are as high as 30%, which is unacceptable from a medical standpoint. This very high THC content can only be explained as a means to meet the demands for an underlying recreational use being justified as a medicinal therapy, she says. She notes that THC content in recreational marijuana has progressively increased from around 3% in the 1970s to levels as high as 30% today.
Dr. Fitzcharles believes rheumatologists are right to caution patients about the risks associated with using cannabis, particularly when the THC content is high. Use of marijuana with a high THC content, even for medical reasons, is associated with acute cognitive changes and impaired coordination and motor control—factors that are especially important for patients who may be struggling with stability due to joint pain. Another point of concern is the effect of cannabis on brain development, which continues into the mid-20s, and may have consequences for adolescents who use marijuana for the management of juvenile arthritis. The effect of smoked marijuana on lung health is also of concern for rheumatology patients.
To date, no information exists on drug interactions between the standard treatments used by rheumatology patients and cannabis, but Dr. Fitzcharles stresses caution for patients who replace standard rheumatology medications with cannabis. She shares the case of a patient with rheumatoid arthritis who chose to substitute her disease-modifying treatment with cannabis in the belief that this would be an effective treatment to control inflammation and disease activity. A 2016 survey study co-authored by Dr. Fitzcharles indicates that patients who are or were recreational marijuana users, such as this patient, may be more likely to self-medicate with marijuana.6
Dr. Fitzcharles does believe "the potential for identifying the correct molecule within the cannabinoid system to alleviate pain is terribly exciting."
Revealing the Endocannabinoid System
Dr. Fitzcharles explains that the endocannabinoid system is found throughout the human body as receptors and ligands that work by restoring homeostasis, affecting pain and inflammation. Although mostly identified in neuronal tissues, the endocannabinoid system extends to skin, bone and joints. Specific molecules within this system, such as anandamide and 2-arachidonyl-sn-glycerol (2-AG), have been found to bind to cannabinoid receptors and activate this system.7 Exogenous cannabinoids, such as those extracted from plants (e.g., phytocannabinoids) or synthesized pharmaceutical preparations, may also function to activate this system and, thereby, have potential for therapeutic effects.
"Basic research has produced a lot of good work to [help] understand how the endocannabinoid system puts the body back into equilibrium through mechanisms, such as reducing pain and inflammation and promoting appetite and sleep," she explains. "The challenge is to identify the specific molecule or combination of molecules, as well as the ideal molecular concentrations in the cannabis plant or a pharmaceutical preparation, that can be most effective to target pain and inflammation. At this point, the clinical evidence to identify these molecules is not there, but the promise of identifying these mechanisms in a way that could help patients is very intriguing."
Regulatory Developments in Europe
In March 2017, it became legal to prescribe 14 strains of cannabis in Germany, which is also seeing an increase in patient requests for cannabis prescriptions, according to Winfried Häuser, MD, a professor of psychosomatic medicine, at the Technical University of Munich and a regular contributor on published research addressing cannabinoids with Dr. Fitzcharles and Dr. Clauw.
With medicinal cannabis now legal in Germany, patients who meet specific criteria and are prescribed marijuana are being tracked through a registry by Germany's Federal Institute for Drugs and Medical Devices, with all patient-identifying information removed. Dr. Häuser believes these data could be valuable to better understand the patient populations using medicinal herbal cannabis. He is also working to receive funding from pharmaceutical companies and a public foundation in Germany to further explore cannabis use for chronic pain.
Beyond Germany, Dr. Häuser is working with colleagues across Europe as head of the task force of the European Pain Federation (EFIC) to establish a position statement on the application of cannabis-based medicines to treat chronic pain. He recently co-authored a survey published in the European Journal of Pain that highlights the availability and approval of cannabis-based medicines for chronic pain management and palliative/supportive care in Europe.8
"[Although] there are marked differences between the countries represented in EFIC in the approval and availability of cannabis-based products for medical use, there is one commonality: There is a significant gap between the public perception of the effectiveness and the safety of cannabis for medical use," Dr. Häuser asserts.
What Patients Need to Know
"Patients need to understand that the rheumatology community is actively seeking clinical data to better understand the safe application of cannabinoids for pain management," Dr. Clauw stresses.
For patients who do choose to use medicinal cannabis, Dr. Clauw and Dr. Fitzcharles make the following suggestions:
Don't smoke it;
Know the THC level, and choose an application with low THC and high CBD;
Look for a low dose (e.g., 0.5 g at nighttime) because it may be more effective;
Understand that cannabis impairs mobility, and don't drive for 24 hours after taking it; and
Understand that turning only to marijuana for pain management may set your treatment back to square one. Consider it more for intermittent use, such as during periods of distress/flare.
"There's no question that cannabinoids are here to stay," Dr. Fitzcharles says. With the popularity and increased marketing of cannabis products, she fears that people may incorrectly view cannabis as a panacea. "Like any drug, cannabinoids offer opportunities for clinical application, and we would be remiss not to explore those opportunities. However, the barriers to studying cannabinoids in clinical applications may require us to be innovative in moving research forward."
---
Carina Stanton is a freelance science journalist based in Denver.
References
Additional Resources
During the 2017 ACR/ARHP Annual Meeting, two experts gave presentations on cannabis and rheumatology. Read more about what they had to say.