In December 2013, Chikungunya infection was reported in the Caribbean Island of Saint Martin, and by April 2014, it had spread to 14 nearby countries. In the U.S., 1,211 Chikungunya cases had been reported to ArboNET (a national surveillance system for arboviral diseases) as of Sept. 30, 2014, of which 40% of the cases were reported from New York and Florida. Alarmingly, 11 locally transmitted cases have been reported from Florida since mid-July 2014. This infection has been reported more widely in Puerto Rico, with around 466 locally transmitted cases reported (see Figure 1).
ADVERTISEMENT
SCROLL TO CONTINUE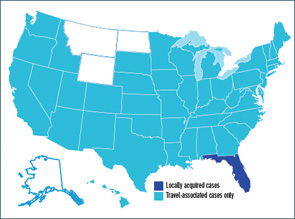 Figure 1: Chikungunya virus disease cases reported by state—United States, 2014 (as of Oct. 7, 2014)
How Is Chikungunya Transmitted?
The two most common CHIKV vectors are Aedes aegypti and Aedes albopictus, although there have been rare isolation of other Aedes (Ae.) mosquitoes with transmission of CHIKV (see Figure 2).
Ae.aegypti is widely distributed in urban areas of the tropics and subtropics. They are found in a perimeter range of 100 meters of human habitation and breed readily in flowerpots and discarded cups. On the other hand, Ae.albopictus (the so-called Asian tiger mosquito) colonizes more around peridomestic habitats, such as farms with a lot of vegetation. It is one of the most invasive mosquitoes in the world and an aggressive daytime human biter. The large outbreaks of Chikungunya in Italy and Reunion have resulted from virus transmission by Ae.albopictus. In fact, CHIKV and dengue virus share the same mosquito vector species, so epidemic waves caused by both viruses affect the same regions, and human co-infections may occur.
ADVERTISEMENT
SCROLL TO CONTINUE

Figure 2: Aedes aegypti and Aedes albopictus mosquitoes transmit Chikungunya virus to people. These types of mosquitoes are found throughout the world.
Viral Strains
CHIKV has three major phylogroups based on the viral envelope E1 structural glycoprotein sequence: East-Central South Africa (ECSA), West African and the Asian strain. A fourth strain, called the Indian Ocean strain, which is a variant of the ECSA group, has a genetic change with a substitution of an alanine to valine at position 226 of the E1 envelope glycoprotein (E1-A226V).15,16 This point mutation has enhanced both virus replication and transmission efficacy in Ae.albopictus and was observed in >90% of viral sequences in the Indian Ocean outbreaks.17
Ae.aegypti is more capable of transmitting the ESCA and Asian strains, and the Ae.albopictus efficiently transmits the epidemic Indian Ocean strain. The CHIKV strain isolated from the recent outbreak in the Caribbean belongs to a variant of the Asian genotype, which is primarily transmitted by Ae.aegypti.18 Being more abundant in the Americas than Ae.albopictus, Ae.aegypti represents a real threat.19-22
ADVERTISEMENT
SCROLL TO CONTINUE
Clinical Manifestations
Chikungunya infection has two successive phases. After an incubation period of around two to four days (range one to 14), the initial phase of acute illness typically presents with high-grade fevers, skin rash and characteristic severe polyarthritis. Unlike most other alphaviral infections, Chikungunya is associated with high-grade fever (often exceeding 39ºC). Forty to 60% of patients have a macular or maculopapular rash (usually three days after fever), which starts on the limbs, can involve the face and may be patchy or diffuse. The skin lesions are pruritic, and exfoliative dermatitis is common. Bullous skin lesions have also been described, most often in children. Additional common manifestations in the acute phase are headache, conjunctivitis, myalgia, peripheral lymphadenopathy, neuropathy and gastrointestinal symptoms.