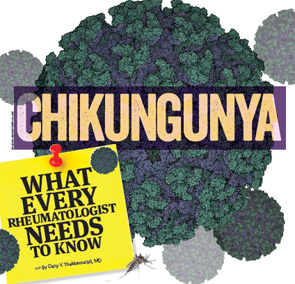 In the past several years, Chikungunya has emerged as a dangerous, rapidly spreading viral illness characterized mainly by debilitating arthritic symptoms. Chikungunya virus (CHIKV) is a single-stranded RNA virus of the genus Alphavirus. The virus is transmitted to humans by mosquitoes. The virus was first isolated from the serum of a febrile patient during an outbreak that occurred in the southern province of Tanzania (Makonde Plateau) in 1952–1953.1,2 The name Chikungunya translates in the Bantu language of the Makonde people to "that which bends up," in reference to the stooped posture patients frequently adopt due to the frequent and incapacitating associated joint pain. Although initially limited to tropical Africa, South East Asia and the Indian Ocean islands, Chikungunya has spread to Europe and also, recently, to the American continents.3,4
Unlike most other viruses, CHIKV predominantly attacks the joint, and patients present with features similar to inflammatory arthritis. A period of persistent joint symptoms often follows the acute febrile phase, which is indeed difficult to distinguish from rheumatoid arthritis. Many of these cases get referred to rheumatologists, and thus, it's important to create awareness about arthritis caused by CHIKV. This article describes the risk associated with the spread of this infection and clinical features, mainly focusing on rheumatic manifestations.
ADVERTISEMENT
SCROLL TO CONTINUE
How Far Has This Viral Infection Spread?
Although there have been reports of epidemics with fevers and predominant arthritis symptoms in the early 19th century, they were thought to be dengue fever. But it's now felt they would better fit the presentation of Chikungunya infection.5 Since 1952, Chikungunya has been frequently reported in the African continent, and the first reported outbreak in Asia was in Thailand in 1958. Since then, a number of cases were reported from 1960 to 2000 in Africa and Asia.6,7
ADVERTISEMENT
SCROLL TO CONTINUE

Dr. Thekkemuriyil
But it was in 2005 when this viral outbreak caught global attention with the rapid spread of devastating outbreaks in the Indian Ocean islands. It was most notable in the Reunion Islands, affecting around 266,000 individuals (34% of the island's population) and 75% of the population of Lamu (an island off the coast of Kenya).8,9 The French Territories in the Indian Ocean had more extensive administrative and technological resources than other islands in the region, so they had better local epidemic-monitoring systems. In India, nearly 1.4 million suspected cases of Chikungunya were reported in 2006.10,11
Although considered a tropical disease, an outbreak of Chikungunya occurred in northeastern Italy in 2007, resulting in more than 200 locally acquired cases.12 The index case was a traveler returning to Europe from India. Phylogenetic analysis of the virus demonstrated similarity with the Chikungunya strain found in the Indian Ocean outbreaks. This is an example for seasonal synchrony in which the period of active transmission in India coincided with Italy's hottest months. It shortened the extrinsic incubation period, resulting in the early transmission of the virus to a new host.