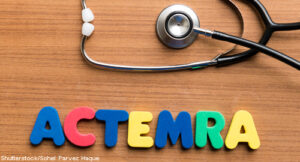 In its COVID-19 treatment guidelines, the National Institutes of Health (NIH) lists several drugs commonly prescribed for patients with rheumatic conditions as potential therapies in those who are hospitalized for COVID-19 and require high-flow oxygen, noninvasive ventilation, intermittent ventilation (IMV) or extracorporeal membrane oxygenation (ECMO), as of Aug. 25, 2021, and current as this is written. The four immunomodulators mentioned in the guidelines are: baricitinib (Olumiant), tocilizumab (Actemra), tofacitinib (Xeljanz) and sarilumab (Kevzara).1,8 Baricitinib or tocilizumab is preferred over tofacitinib and sarilumab; however, with national and worldwide shortages, and barriers to access, tofacitinib and sarilumab are listed as alternatives.
Tocilizumab and sarilumab are interleukin-6 (IL-6) antagonists. Endogenous IL-6 is induced by inflammatory stimuli and mediates a variety of immunological responses. Inhibition of IL-6 receptors by tocilizumab or sarilumab leads to a reduction in cytokine and acute phase reactant production. Preventing the release of these immune-activating and/or inflammatory molecules could help reduce inflammation and the cytokine storm associated with increased morbidity and mortality from COVID-19.
ADVERTISEMENT
SCROLL TO CONTINUE
In both the REMAP-CAP and RECOVERY trials, tocilizumab was shown to have a benefit on mortality in patients with rapid respiratory decompensation. Baricitinib and tofacitinib are Janus kinase (JAK) inhibitors.2,3 JAK inhibitors have anti-cytokine effects, reducing the release of cytokines. Baricitinib, specifically, has potential antiviral effects, interfering with a virus' ability to enter and infect susceptible cells. In the COV-BARRIER trial, baricitinib also showed a reduction in mortality among patients with COVID-19 treated with the drug.4 This may explain why baricitinib is the preferred JAK inhibitor in the treatment of COVID-19 patients.
The use of these agents to combat COVID-19 in hospitalized patients created the potential for worldwide shortages of these agents and the possibility of interrupted treatment regimens for patients with rheumatic disease. On Sept. 3, 2021, Genentech released the following statement: "During this time, availability of Actemra will vary. We expect additional intermittent periods of stockouts in the months ahead, especially if the pandemic continues at the current pace."5
ADVERTISEMENT
SCROLL TO CONTINUE
The website, Genentech, has provided updates on the evolving situation (initially in August 2021) stating that subcutaneous formulations of tocilizumab continue to be available, although it admits to a limited supply.6 Then, most recently in March 2022, Genentech released a statement on the media portion of their website, stating availability of both the intravenous and subcutaneous formulations varies over time and is challenging to predict. 5 An attempt was made to reach Genentech by phone for comment on the status of the tocilizumab shortage. A senior manager for corporate relations, referred us back to the March media statement.