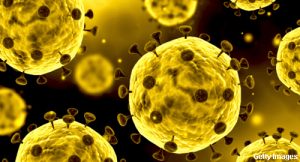 On March 25, the U.S. Food and Drug Administration authorized Genentech to initiate a randomized, double-blind, placebo-controlled phase 3 clinical trial of tocilizumab in patients with SARS-CoV-2 (COVID-19). The study will evaluate the safety and efficacy tocilizumab when added to standard care in hospitalized adults with severe pneumonia caused by COVID-19 compared with placebo plus standard care. Tocilizumab is a humanized interleukin (IL) 6 receptor antagonist approved for treating adults with moderate to severe active rheumatoid arthritis (RA) for whom one or more disease-modifying anti-rheumatic drugs has proved ineffective.1
This global study of tocilizumab will begin enrolling patients in early April 2020, with a target of approximately 330 patients. The study's primary and secondary endpoints include clinical status, mortality, mechanical ventilation and intensive care unit variables. Patients will be followed for 60 days post-randomization, and an interim analysis will be conducted to look for early efficacy evidence.
ADVERTISEMENT
SCROLL TO CONTINUE
The study is being done in collaboration with the Biomedical Advanced Research and Development Authority (BARDA), which is part of the U.S. Health and Human Services (HHS) Office of the Assistant Secretary for Preparedness and Response. This trial is vital because limited published evidence exists supporting the safety and/or efficacy of tocilizumab in patients suffering from COVID-19. Additionally, tocilizumab is not currently approved by the FDA or any other health authorities for use in COVID-19 patients.
This clinical trial is the first global study of tocilizumab in a hospital setting. Currently, some independent clinical trials are exploring the efficacy and safety of tocilizumab for treating patients with COVID-19-related pneumonia. On March 3, 2020, tocilizumab was included in the seventh updated diagnosis and treatment plan for COVID-19 issued by China's National Health Commission.
ADVERTISEMENT
SCROLL TO CONTINUE
U.S. Strategic Stockpile
Additionally, Genentech will be providing 10,000 vials of tocilizumab to the U.S. Strategic National Stockpile for potential future use at the direction of the HHS.2
The company says the current U.S. supply of tocilizumab for FDA-approved indications should not be affected by this change. Genentech has also been working with distributers to manage product supply and enable both Genentech and their distribution partners to quickly fill orders and meet patients' medication needs.
Michele B. Kaufman, PharmD, BCGP, is a freelance medical writer based in New York City and a pharmacist at New York Presbyterian Lower Manhattan Hospital.
ADVERTISEMENT
SCROLL TO CONTINUE