Currier McEwen, MD, was a truly remarkable rheumatologist, accomplishing more than even the best of us could imagine. He is even more recognized in the horticulture community as a hybridizer of flowers.
He was born Osceola Currier McEwen on April Fool's Day, 1902, in Newark, N.J., and died in 2003, at the age of 101. Named after his father, he chose to go by Currier.
His Career
After graduating magna cum laude and Phi Beta Kappa from Wesleyan University, he enrolled in New York University (NYU) School of Medicine. He trained in internal medicine at Bellevue Hospital, then spent four years at the Rockefeller Institute for Medical Research, before joining the NYU medical faculty at the age of 30.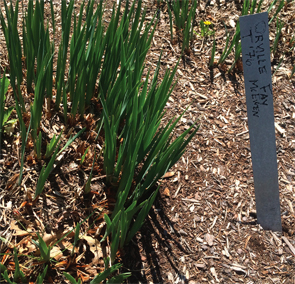 Dr. McEwen established the Rheumatic Disease Study Group at NYU, perhaps motivated by the fact that his father was so crippled by psoriatic arthritis that his pediatric patients had to be carried to him and placed in his lap. By age 35, Dr. McEwen had become dean of the School of Medicine, where he was instrumental in creating the NYU Medical Center.
His career in our professional organizations was no less stellar. He was a founding member of the American Association for the Study and Control of Rheumatic Diseases, and served on its Executive Committee from 1939–60. He was president of the American Rheumatism Association in 1952–53, and was recognized as a Master of the American College of Rheumatology in 1987.
He left NYU for Harpswell on the southern coast of Maine in 1970 at the age of 68, because he considered it "the best place in the world," having summered there since childhood. He served as consultant at the Mid-Coast Hospital in Brunswick, Maine. From this base, he traveled two-week circuits, visiting hospitals in far northern and eastern Maine, which had no rheumatologists, until younger colleagues
took over this role in the 1980s. He finally retired from medicine at the age of 82, but helped describe a family with early-onset osteoarthritis at the age of 92.
More than Medicine
One of us [KF] knew of Dr. McEwen primarily from his eminence in the horticultural world as a hybridizer of iris. But he did not wait until medical retirement to launch this endeavor. He joined the American Iris Society in 1956, and in 1960, while attending a medical meeting in Chicago, he met Orville Fay, who had developed the technique of using colchicine to induce tetraploidy in daylilies.