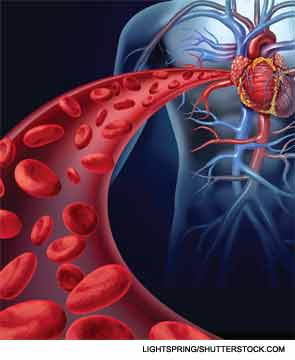 Patients taking 0.5 mg/d of colchicine or placebo for at least two years had about a 65% lower risk of any acute coronary syndrome, heart attack or stroke.
ADVERTISEMENT
SCROLL TO CONTINUE
SNOWMASS, CO—Colchicine has been around for centuries and is commonly used in gout, but was only recently approved by the U.S. Food and Drug Administration (FDA) based on a new, safer dosing regimen. As a gout medicine, colchicine is "imperfect," but it is safe if used correctly and is now listed as a first line of treatment for chronic gout and acute gout attacks in the ACR's guidelines, according to Michael H. Pillinger, MD, associate professor of medicine and biochemistry and molecular pharmacology, NYU School of Medicine, who presented a session on colchicine at the ACR's Winter Rheumatology Symposium.
Although colchicine is primarily considered a gout treatment, it deserves another look for its application in familial Mediterranean fever and its antiinflammatory effects, which make it of potential therapeutic value in osteoarthritis (OA) and cardiovascular disease.
ADVERTISEMENT
SCROLL TO CONTINUE
Mechanism of Action
Colchicine's antiinflammatory properties are not completely understood, but the theory is "that most, if not all, happen through microtubule inhibition," Dr. Pillinger explained. "Colchicine irreversibly complexes with free tubulin dimers, binding between the alpha and beta subunits. Colchicine-tubulin complexes are then incorporated into the growing microtubule, blocking or slowing growth at both ends."
Another mechanism by which colchicine has been shown to function is impairing cells' ability to express selectins. Specifically, Dr. Pillinger noted, colchicine:
Alters the expression of E-selectin on tumor necrosis factor (TNF)–stimulated endothelial cells when used in low doses,
Diminishes stimulated endothelial adhesiveness for unstimulated neutrophils, and
Alters the expression of L-selectin on TNF-stimulated neutrophils when used in higher doses.
The third "story" about colchicine's mechanism of action is related to the inflammasome, Dr. Pillinger added, although this mechanism is less well documented and is a bit controversial. When activated, the inflammasome is hyperactive and creates too much interleukin 1 (IL-1).
ADVERTISEMENT
SCROLL TO CONTINUE
"In gout, IL-1 is, if not the central cytokine, then a central cytokine," Dr. Pillinger said. "So it's become a big target." The interesting thing, he said, is that laboratory studies have shown that colchicine "blocks the activation of the inflammasome," suggesting that this is at least one action of colchicine. The controversy is because the study showing this inhibitory effect used very high doses.1
Another possibility is that colchicine increases production of pyrin, a molecule that is part of the inflammasome. People with familial Mediterranean fever, for example, have defective pyrin. "There's evidence that colchicine might increase production of pyrin under some circumstances," Dr. Pillinger said. "It's a curiosity. How it really affects the inflammasome and how it really works remain to be discovered."