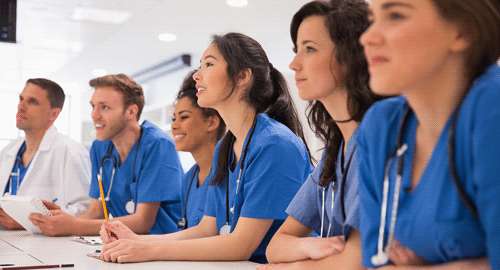 For Marissa N. Meissner, MD, assistant professor, Immunology, Allergy, Rheumatology, Department of Medicine, Baylor College of Medicine in Houston, having mentors who invested their time and knowledge in her development as a young physician helped provide the impetus behind her own decision to become an educator.
"I was both astounded and intimidated by [my mentors'] medical knowledge, while I simultaneously admired their persistence and patience," she says.
Eli Miloslavsky, MD, assistant professor of medicine, Harvard Medical School, Division of Rheumatology, and Massachusetts General Hospital in Boston, became interested in making teaching part of his profession when he was an undergraduate student, serving as a teaching assistant and preparing students for tests.
"I continued teaching in medical school, residency and during my fellowship," he says.
The Students
Although having a passion for teaching and the subject matter is an essential trait of a successful educator, Dr. Miloslavsky says it's also important to be truly invested in students' learning.
Dr. Meissner says educators must also be resilient. "Everyone makes mistakes and misses critical information at times. The key is not to ruminate on [our mistakes]," she says. "Rather, use each setback as a teaching point. If you are not able to acknowledge your own weaknesses, both clinically and personally, it will be hard to teach others to realize the value of failure."
Dr. Miloslavsky says it's also important for an educator to possess certain skills, such as being able to ascertain what a learner does and does not know, so the educator can focus on helping the student make new connections, fill in their learning gaps and address incorrect assumptions.
"A teacher needs to help students get to the next phase, help them ask the right questions and reach new conclusions," he says. "Teachers develop these skills over time."
The Rewards of Teaching
Clinical educators have the responsibility of ensuring the next generation of physicians knows how to provide accurate, evidence-based care.
"Knowing I bear this responsibility is both motivating and humbling," Dr. Meissner says. "It is extremely rewarding to see young physicians mature into competent, thoughtful clinicians who also embrace roles as future educators."
For Dr. Miloslavsky, feeling as though he has made an impact on students' medical knowledge, clinical skills or interests in a specific topic or field of medicine is rewarding. He's also found gratification by getting involved in curriculum development, research in the field of medical education and administration.
Dr. Miloslavsky says being an educator enhances one's work as a clinician. He believes teaching positively affects his ability to be a physician because rheumatologists have to teach their patients about their disease and treatments. "A lot of the skills you use in teaching can transfer to teaching patients and their families," he says.
Being around students also helps Dr. Miloslavsky remain fresh and curious—because students often challenge his thinking. "[The students] help me think about things in ways that I may not have thought about before," he says.
The Challenges
Despite the rewards, many physicians in academic medicine struggle with balancing research, securing grant funding and completing relative value units, while delivering true quality care.
"The constant demands from so many different directions can be exhausting," Dr. Meissner says. "This [feeling] is compounded by the uncertainty of changes in an evolving healthcare system. As teaching physicians navigate these challenges, it is imperative they remember why they chose this path in the first place."
For Dr. Miloslavsky, the challenge is to continuously improve his teaching skills.
"The field of medical education and the tools that we use to teach constantly change," he says. "It's important to watch others teach, try new techniques and challenge yourself to keep your skills sharp and evolving. It can be very beneficial to interact with educators outside of your own division to learn from them and form new collaborations."
---
Karen Appold is a medical writer in Pennsylvania.