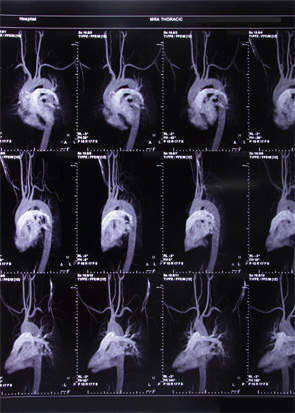 Cardiac MRI is very accurate, with high reproducibility & consistent image quality.
PARIS, FRANCE—Cardiac effects in rheumatological disorders produce myriad serious considerations for rheumatologists, and a leading authority offered pearls for treatment and management in a scientific session at the Annual European Congress of Rheumatology (EULAR 2014) in June.

Dr. Caforio
Myocarditis
Heart involvement in autoimmune disorders can present in a variety of ways, said Alida Caforio, MD, PhD, assistant professor of cardiological, thoracic and vascular sciences at the University of Padova in Italy, and the leading author of a 2013 position paper on myocarditis for the European Society of Cardiology Working Group on Myocardial and Pericardial Diseases.1
A primary problem is that myocarditis can evolve into dilated cardiomyopathy (DCM) or dilation of the left or both ventricles that's not explained by abnormal loading conditions or coronary artery disease and is instead brought about by genetic, infectious or autoimmune factors. Endomyocardial fibrosis can also lead to DCM. Also, some patients can experience DCM because of toxic effects of antiinflammatory drugs or immunosuppressants.
Cardiomyopathy in cases that are noncardiac in origin has been poorly studied, largely because studies are often retrospective or observational studies, the managing physician may not have much cardiology experience and patients have not received a proper cardiological workup.
In patients with systemic sclerosis, cardiac involvement is a negative prognostic factor and is often caught too late. Once a cardiologist sees these patients, they often already have diastolic heart failure, for which there aren't many good treatments, Dr. Caforio said.
She offered two contrasting cases of patients with Churg-Strauss syndrome, also known as eosinophilic granulomatosis with polyangiitis, which involves inflammation of the blood vessels. One patient with eosinophilic pancarditis developed DCM. The diagnosis came relatively early, but not early enough.2
"If we have a diagnosis once we have already thickened endocardium and a lot of fibrosis, then we've lost the battle," Dr. Caforio said.
In the other case, a 22-year-old Churg-Strauss syndrome patient presented with acute myocarditis and cardiogenic shock, but was treated aggressively from a rheumatological and cardiological standpoint—with systemic corticosteroids, IV cyclophosphamide, an intra-aortic balloon pump and mechanical ventilation. The patient was discharged after 21 days and was asymptomatic a year later.3
"The key is early diagnosis," Dr. Caforio said. "Once the cardiac involvement of acute myocarditis is present, then you have to be very aggressive, not just with steroids but also with immunosuppressants to try and prevent the fibrotic stage."