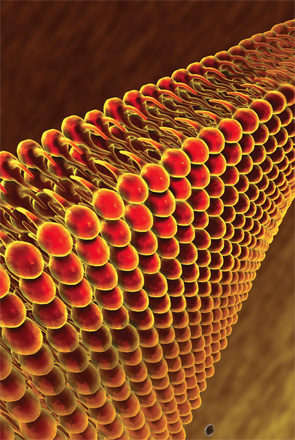 Lipids and fats viewed under a microscope.
PARIS, FRANCE—Researchers are trying to drill down for a better understanding of the link between osteoarthritis and obesity—considered one of the most significant and probably one of the most preventable risk factors for the condition.

Dr. Ioan-Facsinay
Andreea Ioan-Facsinay, PhD, assistant professor of rheumatology at Leiden University Medical Center in The Netherlands, discussed their work on the topic in a scientific session on the role of lipids in inflammation at the Annual European Congress of Rheumatology (EULAR 2014) in June.
D. Branch Moody, MD, professor of medicine in the Division of Rheumatology, Immunology and Allergy at Harvard Medical School, followed with a discussion of new insights into the function of T cells.
The Role of Obesity in Osteoarthritis
"How the association [of obesity] with osteoarthritis is mediated is not really known yet," Dr. Ioan-Facsinay said. "However, what is interesting is that [obesity] is not only associated with osteoarthritis in the knee and in the hip and in the weight-bearing joints, but also with osteoarthritis of the hands."
That implies that obesity is not just a problem of physical strain.
"The mechanisms that are involved in this association are not purely biomechanical, but probably have something to do with the systemic effects of obesity," she said.
That might not be surprising considering that adipose tissue is a resource of soluble mediators—adipokines, cytokines, chemokines and lipids—and that these mediators can "assert a variety of functions," Dr. Ioan-Facsinay said. The adipokine leptin, for example, has the important metabolic function of regulating appetite, but is also a potent immunomodulatory agent.
These mediators become different in the setting of obesity, Dr. Ioan-Facsinay said.
To untangle the role of obesity in osteoarthritis, investigators have focused on the knee, because it's a part of the body where cartilage, bone and synovium are all close to fat tissue.
CD4-positive T cells, they found, produce increased levels of IFN-gamma when they're activated in the presence of adipocyte-conditioned medium (ACM).
This effect, moreover, is seen mainly in the lipid fraction—much more than in the protein fraction—of ACM. Plus, they've found the effect is confined to fractions containing free fatty acids.
[Obesity] is not only associated with osteoarthritis in the knee & in the hip & in the weight-bearing joints, but also with osteoarthritis of the hands.
Researchers also found that fat cells can modulate cytokines by activated macrophages and that the effect seems to be antiinflammatory, which was somewhat surprising. This modulation fluctuated according to BMI: the higher the BMI, the more intense the effect.