You Might Also Like
Explore This Issue
September 2014
Also By This Author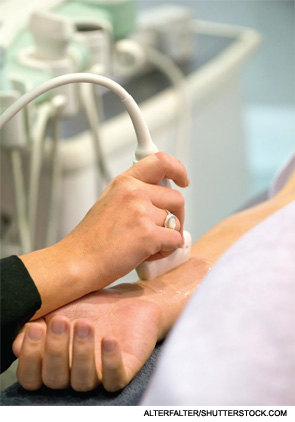 PARIS, FRANCE—Ultrasound can be more useful in rheumatic diseases than many rheumatologists realize, according to a panel of experts gathered at the Annual European Congress of Rheumatology (EULAR 2014) in June.
ADVERTISEMENT
SCROLL TO CONTINUE
Each presenter answered a question about ultrasound in the setting of rheumatology—touching on joint counts in RA, obtaining biopsies and Sjögren's syndrome.
Do we need a different ultrasound joint count for diagnosing & monitoring remission in rheumatoid arthritis?
Annamaria Iagnocco, MD, professor of rheumatology at the University of Rome, said that although ultrasound has been shown to be capable of predicting joint damage and short-term relapse in patients who are in remission—and many scoring models exist to make global assessments of these patients—there is no real consensus on how many joints need to be looked at in a global assessment or what joints those should be.
ADVERTISEMENT
SCROLL TO CONTINUE
In fact, the scoring systems in the literature vary dramatically, with some including just one joint and others including up to 70.
Feasibility is an important concern, Dr. Iagnocco said. "Reduced joint count is particularly useful in terms of clinical practice for evaluating patients with rheumatoid arthritis while we are studying them in the assessment during our physical examination and clinical assessment," she said.
The literature, when studies are compared side by side, reflects essentially an arbitrary approach to determining what joints to include.
ADVERTISEMENT
SCROLL TO CONTINUE
In a study at Dr. Iagnocco's center, a 12-joint reduced count approach was compared with a six-joint approach, which included the wrist, second metacarpophalangeal joint and knee on both sides. They found comparable results between the two, she said.1
"We found that this system was very quick to perform," Dr. Iagnocco said. "When you have more than 12–20 joints to examine, this is very time consuming. But a global assessment is very important for diagnosis, for monitoring and for remission of the disease."

Dr. Jousse-Joulin
What is the role of ultrasound in guided synovial biopsies?
Stephen Kelly, MD, consultant rheumatologist at Mile End Hospital in London, said that using ultrasound to help with getting samples of synovial tissue is a worthwhile approach.
Traditionally, samples have been obtained using arthroscopy, and patients have been referred to orthopedic surgeons. Some rheumatologists do it themselves, but it's time consuming and expensive.
The samples are useful both for diagnosis and research—particularly in assessing whether the samples can be useful in predicting response to therapies, Dr. Kelly said.
In a study Dr. Kelly helped lead, researchers looked at the tolerability, safety and yield of synovial tissue in an early arthritis cohort using a minimally invasive, ultrasound-guided biopsy approach. In the procedure, a local anesthetic is injected into the skin and a small amount into the synovial space. Ultrasound is used to guide a semi-automated, guillotine-type needle.