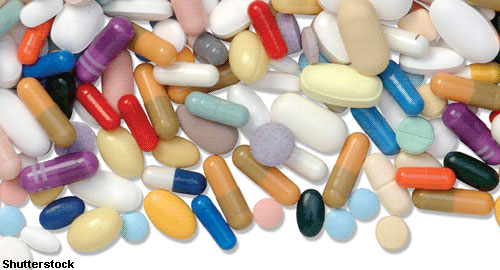 In Europe, a subcutaneous formulation of belimumab has been approved to help treat patients with active autoantibody-positive systemic lupus erythematosus (SLE). Meanwhile, the U.S. Food and Drug Administration (FDA) has issued a safety alert for febuxostat, after a safety trial showed an increased risk of heart-related death.
Also By This Author
European Commission Approves Subcutaneous Belimumab
A new subcutaneous formulation of belimumab (Benlysta) has been approved by the European Commission.1 The treatment's approval is as an add-on therapy in adults with active autoantibody-positive SLE with a high degree of disease activity despite standard therapy (e.g., positive anti-dsDNA and low complement). This once-weekly injection will be available in 200 mg single-dose prefilled syringes and single-dose prefilled pens (autoinjector). Belimumab is also available as an existing intravenous formulation.
ADVERTISEMENT
SCROLL TO CONTINUE
This approval is based on results of the BLISS-SC Phase 3 study, which included more than 800 patients with active SLE. BLISS-SC measured disease activity reduction at Week 52 in patients who received belimumab plus standard care compared with patients who received placebo plus standard care. This formulation was approved in the U.S. in July 2017.
Risk of Heart-Related Death with Febuxostat
On Nov. 15, the FDA alerted the public that preliminary results from a safety trial showed patients taking febuxostat (Uloric) for gout have an increased risk of heart-related death compared with those on allopurinol. When the final post-marketing trial results are received, the FDA will conduct a comprehensive review and update the public with any additional information.2 Currently, febuxostat drug labels already have a Warning and Precaution about cardiovascular events due to the higher rate of cardiac problems found during pre-marketing clinical trials.
ADVERTISEMENT
SCROLL TO CONTINUE
In 2009 when febuxostat was FDA approved, its manufacturers were mandated to conduct this additional safety trial because pre-marketing clinical trials found a higher rate of cardiac problems, which include myocardial infarction (MI), stroke and heart-related death, in febuxostat-treated patients compared with allopurinol-treated patients.
The safety study was designed to gain a better understanding of febuxostat and its effects. It evaluated more than 6,000 gout patients treated with febuxostat or allopurinol. The primary outcome was a combination of heart-related death, non-fatal MI, non-fatal stroke and a condition of inadequate blood supply to the heart requiring urgent surgery.
The preliminary safety study results demonstrated that, overall, febuxostat did not increase the risk of these events compared with allopurinol. However, when the outcomes were evaluated separately, patients treated with febuxostat had an increased risk of heart-related death and death from all causes.