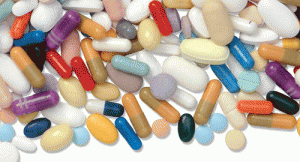 Buccal Opioid FDA-Approved
Belbuca, buccal-administered buprenorphine, has received U.S. Food and Drug Administration (FDA) approval for treating severe chronic pain.1 The dosage form is a dissolving film that is absorbed through the inner lining of the cheek for chronic pain management. It's expected to be commercially available in the first quarter of 2016. Seven dosage strengths will be available for flexibility. Doses will range from 75 μg to 900 μg to be administered every 12 hours.
Meloxicam Reconfigured
The FDA has approved meloxicam capsules (Vivlodex) for managing osteoarthritis (OA) pain.2 It will be available in 5 mg and 10 mg doses for once-daily usage. This formulation uses low-dose proprietary SoluMatrix Fine Particle Technology with submicron meloxicam particles that are approximately 10 times smaller than their original size, resulting in faster dissolution. Phase 3 clinical trial data that support the approval of this formulation was carried out in a 12-week multicenter, double-blind, placebo-controlled study of patients aged 40 and older (n=402) with OA pain of the knee or hip.
Lesurinad for Gout Still Faces Hurdles
Lesurinad, a selective uric acid reabsorption inhibitor (SUI), was recommended for approval by an independent panel of FDA advisors for treating gout in a vote of 10 to 4.3 For primary issue, two doses were tested: 200 mg and 400 mg. The 400 mg dose was more effective at treating gout, but was also associated with more renal and cardiovascular adverse events.
Because of these results, the manufacturer is submitting only the 200 mg dose for approval. There are still safety concerns with the 200 mg dose. The FDA safety profile vote resulted in a slim margin of approval: Seven to six, with one abstention. It's hypothesized that, if approved, the 200 mg lesurinad dose will have a boxed warning as part of its labeling.
Michele B. Kaufman, PharmD, CGP, RPh, is a freelance medical writer based in New York City and a pharmacist at New York Presbyterian Lower Manhattan Hospital.
References
News release: U.S. FDA approves Belbuca (buprenorphine) buccal film for chronic pain management. 2015 Oct 26.
Iroko Pharmaceuticals LLC. New release: Iroko Pharmaceuticals receives FDA approval for Vivlodex—first low-dose SoluMatrix meloxicam for osteoarthritis pain. 2015 Oct 23.
Gray N. FDA cautiously recommends approval of AZ's gout drug. BioPharma Dive. 2015 Oct 25.