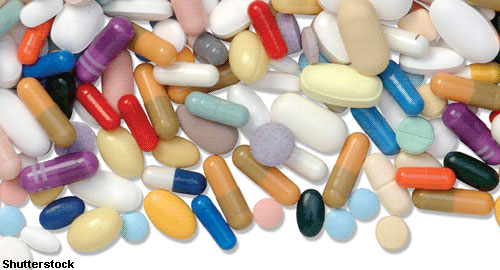 FDA Approves Rituximab Biosimilar
In late November, the U.S. Food and Drug Administration (FDA) approved Truxima (rituximab-abbs), which is the first treatment biosimilar to Rituxan (rituximab).1 At present, the treatment is approved for use in adults with CD20-positive, B-cell non-Hodgkin's lymphoma. Truxima can be used as a single agent or in combination with chemotherapy.
In Europe, Truxima is approved for treating follicular lymphoma, diffuse large B cell non-Hodgkin's lymphoma, chronic lymphocytic leukemia, severe rheumatoid arthritis (RA) and granulomatosis with polyangiitis and microscopic polyangiitis.2 U.S. approval of Truxima for these other indications may also be on the horizon.
New Safety Data for Filgotinib in RA Patients
CHICAGO—The Phase 3 study, FINCH-2, examined the use of filgotinib vs. placebo in adults with active RA who had an inadequate response to biologic disease-modifying anti-rheumatic drugs (DMARDs) [NCT02873936].3 Filgotinib is a selective, oral, JAK1 inhibitor. The results of the study were presented at the 2018 ACR/ARHP Annual Meeting.
During the study, patients (N=448) were randomized 1:1:1 to receive either 200 mg of filgotinib (n=147), 100 mg of filgotinib (n=153) or placebo (n=148) once daily for 24 weeks. The primary efficacy endpoint was the proportion of patients who achieved an ACR20 response at Week 12.
To participate, patients had to be taking stable doses of conventional synthetic DMARDs. The majority of study patients were female (80%), had a mean age of 56 years and had an RA disease duration of 12.4 years. Additionally, 23.4% of all patients had used at least three prior biologic DMARDs.
At Week 12, more patients taking filgotinib achieved ACR20 responses compared with placebo-treated patients (66% for 200 mg filgotinib; 58% for 100 mg filgotinib; 31% for placebo), which was clinically and statistically significant. Additionally, the reduction from baseline in Health Assessment Questionnaire Disability Index was greater for filgotinib-treated patients than placebo-treated patients.
Important secondary endpoints, such as FACIT-Fatigue and SF-36, were also met by filgotinib-treated patients. At Weeks 12 and 24, ACR50, ACR70, DAS28(CRP)≤ 3.2 and clinical remission—defined as DAS28(CRP) of less than 2.6—were also assessed and significantly improved in filgotinib-treated patients compared with placebo-treated patients.
Adverse and serious adverse events were similar for filgotinib- and placebo-treated patients. Four cases of uncomplicated herpes zoster occurred, two cases in each of the filgotinib-treated groups. No new cases of active tuberculosis or opportunistic infections, gastrointestinal perforation, malignancy or death occurred.
This study showed that filgotinib was a safe and effective treatment for patients with highly active RA and prior intolerance or inadequate response to biologic DMARDs.
---
Michele B. Kaufman, PharmD, BCGP, is a freelance medical writer based in New York City and a pharmacist at New York Presbyterian Lower Manhattan Hospital.
References
U.S. Food and Drug Administration. News release: FDA approves first biosimilar for treatment of adult patients with non-Hodgkin's lymphoma. 2018 Nov 28.
European Medicines Agency. European public assessment report summary for the public: Truxima (rituximab). 2017 Aug 3.
Genovese MC, Kalunian KC, Walker D, et al. Safety and efficacy of filgotinib in a phase 3 trial of patients with active rheumatoid arthritis and inadequate response or intolerance to biologic DMARDs [abstract]. Arthritis Rheumatol. 2018 Oct; 70 (suppl 10).