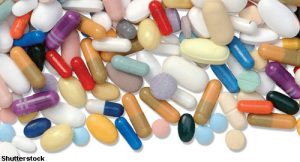 In June, the U.S. Food & Drug Administration (FDA) approved secukinumab (Cosentyx) to treat active non-radiographic axial spondyloarthritis (nr-axSpA).1
Secukinumab inhibits interleukin (IL) 17A, a cytokine involved in the development of psoriatic arthritis, moderate to severe plaque psoriasis and ankylosing spondylitis (AS). The agent is already FDA-approved to treat these conditions. More than 13 years of clinical data for secukinumab exist, including five years of data supporting its long-term safety and efficacy in patients with moderate to severe plaque psoriasis, psoriatic arthritis and ankylosing spondylitis.
ADVERTISEMENT
SCROLL TO CONTINUE
This new indication for secukinumab is based on efficacy and safety findings from the randomized, double-blind, placebocontrolled, phase 3 PREVENT study. This study included adults with active nr-axSpA (N=555) who were biologic naive or had an inadequate response to, or were intolerant of, tumor necrosis factor-α (TNFα) inhibitor therapy. Of the study patients, most (90%; n=501) were biologic naive.
Patients were randomized to one of three treatment groups: a 150 mg of subcutaneous secukinumab loading dose, followed by 150 mg of subcutaneous secukinumab weekly for four weeks and then maintenance with 150 mg of secukinumab monthly; 150 mg of subcutaneous secukinumab monthly; or placebo. The primary endpoint was the proportion of biologic-naive therapy patients who achieved an Assessment of Spondylo-Arthritis International Society 40 (ASAS40) response at weeks 16 and 52—defined as an improvement of at least 40% and an absolute improvement from baseline of at least 20 units on a 0–100 scale in at least three of the following domains: patient global assessment of disease activity, pain assessment, physical function as measured by the Bath Ankylosing Spondylitis Functional Index or inflammation; with no worsening in the remaining domain.
ADVERTISEMENT
SCROLL TO CONTINUE
Secondary endpoints included a change in the Bath Ankylosing Spondylitis Disease Activity Index over time and a change in the Ankylosing Spondylitis Disease Activity Score with C-reactive protein (CRP).
Secukinumab met the study's primary endpoints, with patients receiving secukinumab achieving improvement in the signs and symptoms of nr-axSpA. These results were statistically significant.
The safety profile of secukinumab was similar to prior clinical trials. No new safety signals were identified.
ADVERTISEMENT
SCROLL TO CONTINUE