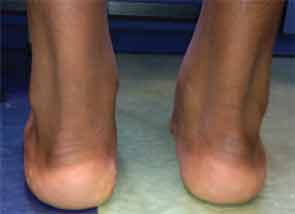 Figure 1: Bilateral enthesitis of the Achilles tendons.
A 14-year-old boy from Cape Verde was referred to rheumatology clinic for evaluation of arthritis, fevers, and weight loss. Three weeks earlier, he began to notice left ankle pain and swelling. Over the next few days, his right ankle, both knees, and left elbow also became swollen and painful. He complained of bilateral hip and neck pain. He noticed that he had morning stiffness that improved somewhat with movement, although he felt stiff throughout the day.
In addition, he developed fevers as high as 102.5º F, which occurred almost daily and most commonly at night. He described nondrenching night sweats and a decreased appetite with an 18-pound weight loss. He was evaluated by a physician in Cape Verde who prescribed naproxen, which was not helpful. Due to the persistence of his symptoms, the patient was brought to Boston for further medical management.