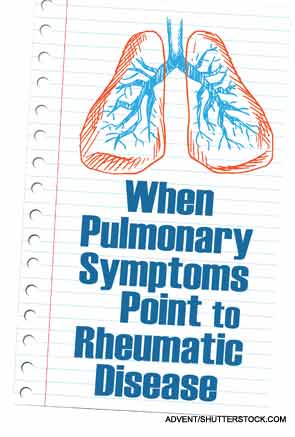 ADVERTISEMENT
SCROLL TO CONTINUE
Take Home Points
Mechanic's hands are a distinct clinical feature of the antisynthetase syndrome, which comprises interstitial lung disease, myositis, arthritis, fever, and Raynaud's phenomenon.
A cytoplasmic staining pattern on immunofluorescence testing may provide a clue to the presence of antisynthetase antibodies.
Anti–Ro-52 antibodies—but not anti–Ro-60 antibodies—are associated with idiopathic inflammatory myositis.
Rituximab has been shown to be successful in patients with antisynthetase syndrome who failed cyclophosphamide or other immunosuppressive treatment in a small case series, but no studies have yet been conducted that show its efficacy as a first-line agent.
The Case
A 48-year-old man had been in his usual state of health until December 2012, when he presented to the emergency department of a hospital in Maine complaining of malaise, diffuse arthralgias and myalgias, and a three-week history of a worsening cough. A chest X-ray showed bilateral lower-lobe pneumonia. He was sent home with a prescription for azithromycin. Two days later, he returned to the same emergency room with fever to 101.5º F, chills, worsening cough, and shortness of breath. He was noted to be hypoxemic and was admitted to the hospital. Antibiotic coverage was broadened to include ceftriaxone and levofloxacin.
Over the next day, he became tachypneic and his oxygen saturation dropped to 79% on room air. He failed a trial of bilevel positive airway pressure (BPAP), and was intubated and transferred to the medical intensive care unit (ICU). Chest computed tomography (CT) showed diffuse bilateral infiltrates sparing only the right upper lobe. Bronchoalveolar lavage (BAL) yielded 571 white blood cells (WBCs), mostly polymorphonuclear neutrophils (PMNs), ciliated epithelial cells, and pulmonary macrophages. Persistent fevers led to stepwise broadening of antibiotics, to include vancomycin, piperacillin/tazobactam, doripenem, linezolid, and rifampin. Despite these efforts, his oxygen demand continued to increase.
ADVERTISEMENT
SCROLL TO CONTINUE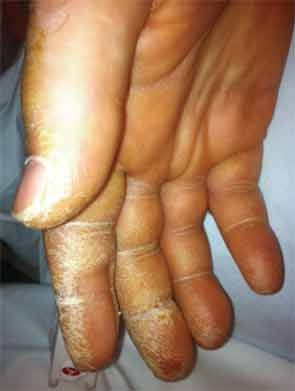 Figure 1: Thickened and cracked skin, most pronounced on the palmar aspect of the thumb, index, and middle fingers, consistent with mechanic's hands.
Empiric steroids were introduced one week into his course, initially 125 mg of Solu-Medrol every six hours, tapered to 60 mg every six hours two days later. His course was complicated by the development of pneumomediastinum. Persistent low-grade fevers and leukocytosis prompted exchange of all lines. Repeat chest CT two weeks after his admission showed extensive bilateral confluent areas of airspace disease that was felt to represent consolidative pneumonia with bilateral pleural effusions. New areas of ground-glass opacities were seen in the right upper lobe, lingula, and right middle lobe. At this time, the rheumatology service was consulted for possible acute interstitial pneumonia. Steroids were increased to pulse doses, 250 mg Solu-Medrol every six hours for one day. Intravenous cyclophosphamide was considered but deferred, given there was no clear evidence of a collagen vascular disease. He failed to improve and at this point, in early January 2013, he was transferred to the medical ICU of our hospital for further management.