His past medical history included hypertension, hyperlipidemia, gastroesophageal reflux disease, Ray­naud's phenomenon for the past five years, a history of arthritis (the details of which were unclear), and chronic back pain. He had no family history of rheumatologic disease. His medications taken prior to admission were lovastatin, aspirin, lisinopril, and ranitidine. He had no known drug allergies. He lived with his girlfriend of 12 years and worked as a chef. He had never smoked. He had no significant travel history.
On exam he was intubated and sedated. He was febrile to 103.3º F. Blood pressure was 100/60 mmHg, heart rate 60 beats per minute while on pressors. Tidal volume was set to 400 ml, respiratory rate to 35, fraction of inspired oxygen (FiO2) to 1.0, with a positive end-expiratory pressure of 14. He had anasarca with a calculated fluid overload of 16 liters. His heart sounds were regular with no murmurs. He had coarse respiratory sounds on lung exam. There was no synovitis in any joints. Thickened cracked skin was noted on the palmar surface of the thumb, index, and middle fingers bilaterally (see Figure 1).
ADVERTISEMENT
SCROLL TO CONTINUE
Laboratory workup showed a WBC of 23.8, with neutrophil predominance. Arterial blood gas showed a pH of 7.23, a pCO2 of 69 mmHg, pO2 of 337 mmHg on FiO2 of 1.0. Serum creatinine was 0.95 (ref 0.8–1.3 mg/dL). Urinalysis revealed no red blood cells or protein. Creatine kinase (CK) was 80 (normal range 60–400 U/L). Liver function tests were normal except for alanine transaminase 106. Blood cultures and cultures from BAL were negative, as was the polymerase chain reaction test for pneumocystis jiroveci. He had three negative stains for acid-fast bacilli (AFB) and a HIV test was negative. The urine specimens were negative for legionella and histoplasma antigens.
Chest CT at our hospital showed improvement in the lung consolidations but new lobular ground-glass opacities (see Figure 2). This was felt to be consistent with improving pneumonia and subsequent development of adult respiratory distress syndrome (ARDS). Steroids were held due to lack of significant improvement and concerns for worsening prognosis in late stage ARDS. All antibiotics were discontinued. An aggressive diuresis plan was initiated. Cytology from BAL returned cytopathic changes suspicious for herpes simplex virus (HSV). Acyclovir was initiated while it was unclear whether these changes represented contamination, reactivation, or active infection. His respiratory status did not improve.
ADVERTISEMENT
SCROLL TO CONTINUE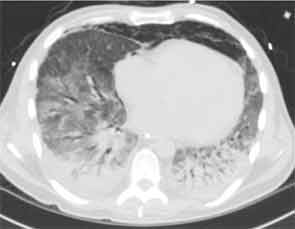 Figure 2A: Diffuse ground-glass opacities, posterior lobe predominant consolidations, and pneumomediastinum.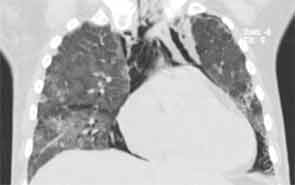 Figure 2B: Diffuse ground-glass opacities, posterior lobe predominant consolidations, and pneumomediastinum.
Rheumatologic workup included a negative antineutrophil cytoplasmic antibody test, rheumatoid factor, cyclic citrullinated peptide antibody, cryoglobulin, antinuclear antibody (ANA), dsDNA, and Scl-70 and Jo-1 antibodies. He was noted to have a positive cytoplasmic antibody with a titer of 1:160. Ro antibody was positive at 129 (normal 0–19.99). Antibodies to other extractable nuclear antigens as well as cardiolipin antibodies, beta-2-glycoprotein antibodies, and the lupus anticoagulant were all negative.