Patients with acute gout and other inflammatory diseases may soon have access to less expensive colchicine therapy, thanks to a federal judge and a years-long effort by the ACR. But the fight's not done yet.
You Might Also Like
Explore This Issue
March 2015
Also By This Author
A Jan. 9 ruling from the U.S. Court of Appeals in Delaware immediately allowed West-Ward Pharmaceutical Corp. and Hikma Pharmaceuticals Inc. to offer generic colchicine products to the market for prophylactic gout treatment. Although an appeal from the current producer, Takeda, is in progress, the ACR pledges to continue keeping a wary eye on patient and physician access to much-needed medications at more affordable prices.
ADVERTISEMENT
SCROLL TO CONTINUE
Background
The current case began after West-Ward and Hikma received FDA approval in September 2014 for Mitigare, a 0.6 mg colchicine capsule for prophylactic gout treatment. Takeda Pharmaceuticals USA Inc. then filed a patent infringement suit to block Mitigare from the market. URL Pharma of Philadelphia, which was later sold to Takeda, received FDA approval for its colchicine drug, Colcrys, in 2009, along with the exclusive right to market colchicine for acute gout flares (https://www.the-rheumatologist.org/details/article/865591/Colcrys_Approval_Triggers_Questions.html). Other companies that had previously been producing colchicine for this application—Hikma among them—were ordered to stop marketing their versions of colchicine.
Since then, the price of colchicine has risen from $0.09/dose to $5/dose, a 50-fold jump.
ADVERTISEMENT
SCROLL TO CONTINUE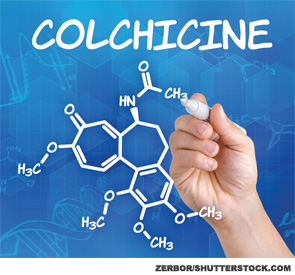 The ACR has been battling against Colcrys as the sole treatment option since the FDA granted its approval six years ago. Before then, colchicine was already being used and was widely viewed as safe and effective. In fact, it was among the most routine treatment options for patients with gout. But URL Pharma took advantage of an FDA program to formalize approval for previously unapproved medications and became the first official purveyor of colchicine. That granted the company a three-year window of exclusivity, and the price spike followed.
URL Pharma "basically found a loophole in the system," says former ACR President Stanley Cohen, MD, co-director of the Division of Rheumatology at Presbyterian Hospital in Dallas. "They were able to charge outrageous prices for a drug that didn't require outrageous prices."
The Current Battle
Takeda, which acquired URL Pharma in 2012, has fought to protect that exclusivity. In September, Hikma was granted approval to market and sell a version of colchicine, but Takeda obtained a temporary restraining order.
ADVERTISEMENT
SCROLL TO CONTINUE
The ACR filed an amicus curiae brief in the case, arguing that preventing Mitigare from reaching the market was a disservice to patients.