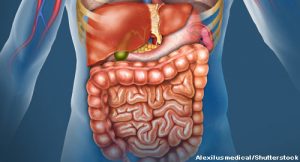 Although researchers continue working to understand the pathophysiology of systemic sclerosis (SSc), evidence suggests SSc is mediated by vasculopathy, immunologic dysregulation and fibrosis. Given this evidence, it comes as no surprise studies have documented that 5–8% of SSc patients develop severe gastrointestinal (GI) disease. Moreover, independent associations appear to exist between severe GI disease, higher skin scores and telangiectasia. Reinforcing the association is the fact complications from GI dysmotility may be associated with anti-cardiolipin antibody (ACA) positivity.
Also by this Author
These observations led Nicolas Richard, MD, a rheumatology fellow at Hopital Maisonneuve-Rosemont, Montreal, Canada, and colleagues to examine the incidence, predictors and outcomes associated with severe GI disease in a large inception SSc cohort. They found many patients with early SSc experience severe GI disease and the GI disease was associated with significant morbidity and increased mortality. The results of their research were published online in Rheumatology.1
The study cohort comprised 556 patients (Canadians and Australians) with SSc who had a disease duration of less than two years. The investigators followed these patients for a mean of 4.3±3.0 years and used physician reports, as opposed to objective verification, to document the presence of severe GI disease. The researchers found almost 10% of subjects developed severe GI disease at two years and more than 15% of subjects developed severe GI disease by the fourth year.
Patients with severe GI disease had markers of muscle inflammation, skin fibrosis and vasculopathy. Inflammatory arthritis and fecal incontinence was also associated with severe GI disease. In addition to the high incidence of severe GI disease, 58.3% of patients developed malabsorption, 19.4% developed hyperalimentation and 27.8% developed pseudo-obstruction during follow up.