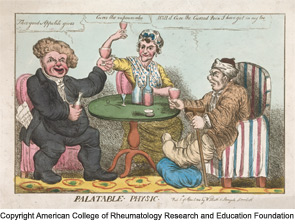 "Palatable Physic," a Rodnan commemorative gout print.
Gout is a common rheumatic disease often characterized by swelling, redness, and intense pain in the big toe. Once thought to be an exclusive disease of the wealthy who overindulged in food and spirits, gout has become a royal pain for millions of Americans.
Last year, Arthritis & Rheumatism reported that the prevalence of gout has swelled in the last two decades.1 The study noted that high blood pressure and obesity may be contributing factors to the rise of gout.
According to the author of the ACR's patient fact sheet on gout, H. Ralph Schumacher, MD, "Gout often is associated with hypertension and heart and kidney disease, or the use of medications that increase uric acid levels." Dr. Schumacher also writes, "Lifestyle changes may make it easier to manage this lifetime disease. Suggestions include gradual weight loss, avoidance of alcohol, and reduced consumption of fructose-containing beverages and foods high in purines."
Pages: 1 | 2 | Single Page