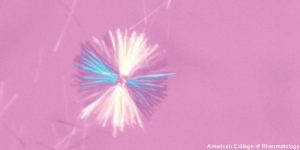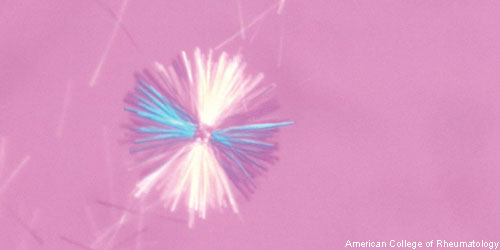 Patients with gout and rheumatoid arthritis (RA) experience strikingly different health outcomes. Although U.S. patients with RA have enjoyed improvements in care, gout care remains largely suboptimal. This difference is reflected in a new study that reveals that the U.S. has experienced large, but disparate, changes in the rate at which patients are hospitalized for gout and RA.
You Might Also Like
Also By This Author
Sian Yik Lim, MD, a rheumatology fellow at Massachusetts General Hospital in Boston, and colleagues published their analysis of hospitalization trends in the June 7 issue of JAMA.1 They documented gout and RA hospitalizations in the U.S. between 1993 and 2011. During this time, the annual hospitalization rate with a principal discharge diagnosis of RA declined from 13.9 to 4.6 per 100,000 U.S. adults. In contrast, the hospitalization rate for patients with gout increased from 4.4 to 8.8 per 100,000 U.S. adults. Likewise, from 2001–2011, the inflation-adjusted hospital costs per 100,000 U.S. adults with a principal discharge diagnosis of RA declined from $83,101 to $55,988, whereas the cost of gout increased from $34,457 to $58,003.
ADVERTISEMENT
SCROLL TO CONTINUE
Thus, the researchers described a "very important trend between two really major arthritis conditions," explains co-author Hyon K. Choi, MD, DrPH, director of the Gout and Crystal Arthropathy Center at Massachusetts General Hospital, in an interview with The Rheumatologist. "One disease is improving so much; the other is not," he adds.
Gout Prevalence Is Increasing
The prevalence of both gout and hyperuricemia appears to have increased over the past two decades and may still be increasing. This increase is associated with increasing frequencies of adiposity and hypertension, as well as the increased use of diuretics. This worldwide trend has been documented in the U.K., New Zealand and in urban African communities and has reached the point that, from 2007–2008, 3.9% of U.S. adults were diagnosed with gout.2
ADVERTISEMENT
SCROLL TO CONTINUE
Dr. Choi notes, however, that the increase in gout hospitalizations is even greater than the increase in gout prevalence that has been previously documented in epidemiological studies. He believes that this is because "gout care is so suboptimal that people are getting hospitalized for unnecessary reasons."
Additionally, although RA care has substantially improved over the past years, there have been no real advances in gout care. Finally, while patients with RA are frequently treated by rheumatologists, patients with gout are often treated by primary care physicians. Thus, most of the allopurinol prescriptions are written by non-rheumatologists who do not closely follow the literature on the treatment of gout. All told, the data reveal clear shortcomings in gout care, prompting Dr. Choi to say, "We need to do better. … Our paper highlights the critical need to improve gout care and prevention."